*This post may have affiliate links, which means I may receive commissions if you choose to purchase through links I provide (at no extra cost to you). As an Amazon Associate I earn from qualifying purchases. Please read my disclaimer for additional details..
If you are someone who sews frequently, you probably know how helpful a rotary cutter can be.
Rotary cutters move through fabric with precision and speed. But with such an efficient cutting tool, you need something to ensure safety for your workspace.
Do you need a cutting mat for sewing?
Cutting mats are not necessary when sewing, but if you frequently use sharp tools like rotary cutters, they can be extremely useful.
A cutting mat's main purpose is to keep people and tabletops safe. They provide a smooth, durable surface to work on fabric or other materials when using tools for cutting or measuring.
Are you considering adding a cutting mat to your sewing space?
Let's explore the uses, differences, and benefits of working with a cutting mat so you can make the right choice.
How Cutting Mats Help With Sewing
If you sew a lot, especially quilting, you will find that using a rotary cutter makes your job easier.
It cuts out perfect edges, works through multiple layers of fabric, and quickly finishes any trimming job.
On the other hand, a rotary cutter can disfigure the surfaces on which you cut. Their blades are extremely sharp, thin, and likely to etch into a tabletop.
Using a rotary cutter on regular surfaces can also cause the blade to get dull quickly or even break if the surface is uneven. And if the blade is at risk for damage, then you can get hurt or cut when using it
Cutting mats protect cutting surfaces, preserve the sharpness of the rotary cutter, and reduce the chance of injury when cutting fabric.
Choosing the Right Cutting Mat for Your Sewing Projects
If you're ready to protect your countertops and your fingers, you'll find a variety of options when selecting a cutting mat.
Cutting Mat Surface Types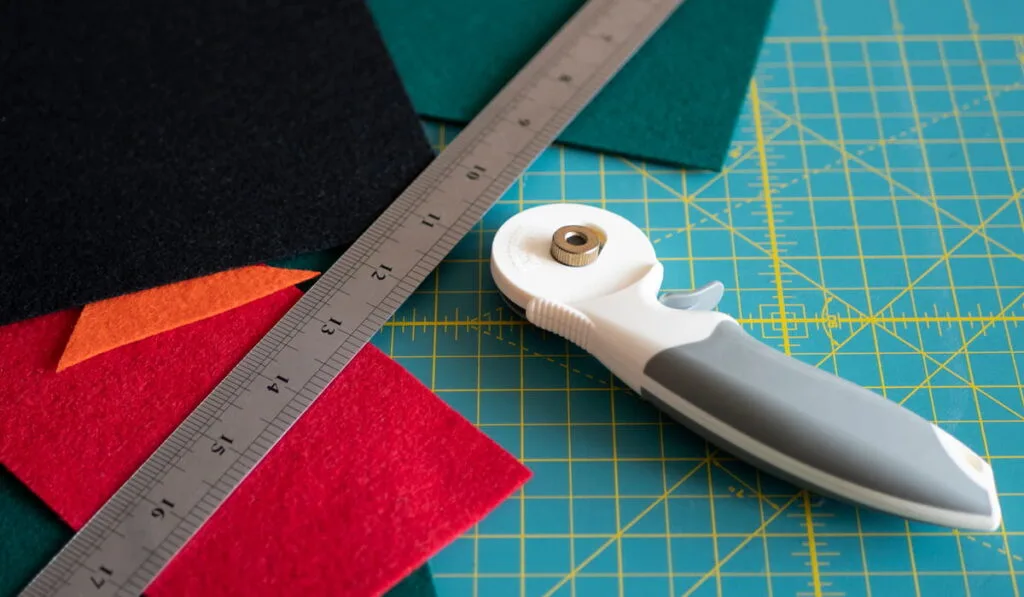 Cutting mats come in 2 main surface types: soft surface and hard surface. Both can be used when sewing but have features that might be a better fit depending on your projects.
Soft Surface Cutting Mats
Soft surface cutting mats are also known as self-healing cutting mats.
They are relatively thinner than hard-surface types, usually 2-3 mm thick, and they are typically flexible or able to bend slightly.
The mat surface has the slightest bit of compression when pushed on with a blade, so the blade feels secure and sturdy when running across a soft surface cutting mat.
Soft surface cutting mats come with a top layer made of vinyl, which is usually colored. When you use a rotary cutter, the blade cuts through the top layer, but the cut closes up on its own afterward.
However, if you use a blunt rotary cutter, which can make thicker slices into your cutting mat, you reduce the chances of the cuts healing.
Hard Surface Cutting Mats
Hard surface cutting mats are also known as self-sealing cutting mats. They are rigid and relatively thicker than soft surface mats.
When you run a rotary cutter across the surface, the blade will not cut through the hard surface or leave a mark.
This can make the cutting action feel more smooth compared to the slight give of a soft surface cutting mat.
Cutting Mat Surface Texture
Cutting mats can have either a smooth surface or a more textured, or rough, feel to them. Finding a mat that has the right amount of texture or grip for the projects you work on is important.
A cutting mat with a completely smooth surface will not give your rotary blade much grip to rin against.
This can make the cutter more likely to slip or skip when you use it. If this happens, you may cut yourself, or you may make a mistake while cutting the fabric.
A cutting mat that has a coarse texture or feels rough to the touch can compromise the precision of your fabric cuts.
These mats can also create more friction on the cutting blade or make it harder to cut smoothly through fabric.
A cutting mat with a slight texture (not overly coarse or completely smooth) will likely be the best fit.
Size
You should also consider the size of the cutting mat you will need. Cutting mats are available in various sizes, and the right size is usually determined by your sewing or table space.
Be sure to accurately measure your sewing area and let that guide your choice.
Common cutting mat sizes include 8.5" by 11", 18" by 24", 24" by 36", and 48" by 96". Cutting mats also come as large as 4' by 16' and 6' by 12'.
Some manufacturers may also offer custom-sized mats. If you need a specific or hard to find size, you might be able to order one.
Color and Markings
Color can be important when choosing a cutting mat. You may want to pick a cutting mat that matches or complements your working area.
Cutting mats often come double sided with dark and light options to make it easier to read measurements or align fabric.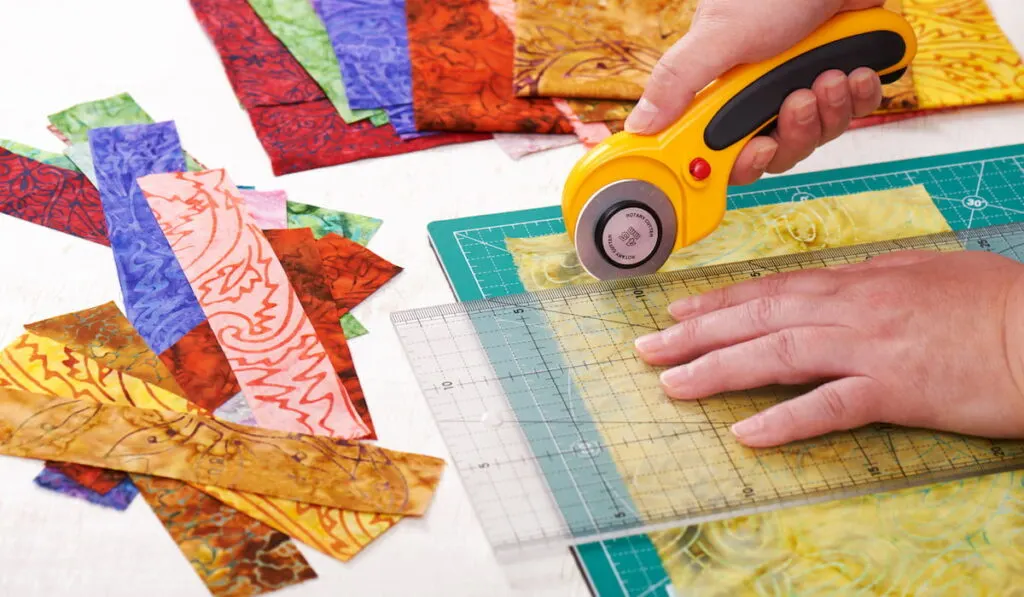 Gridlines and markings are key to making straight, even, and accurate cuts. Make sure that you can easily read the measurements and see the lines on the cutting mat surface.
Gridlines can be preprinted with different angles and shapes, so keep in mind your common projects and cutting needs.
Reasons to Get a Cutting Mat for Your Sewing Projects
Cutting mats can benefit you and your sewing projects in many ways.
Quilters and other likeminded crafters are also likely to find a cutting mat can improve their projects and their workspace.
Consider getting a cutting mat to:
Prevent your cutting surface from getting damaged.
Protect your rotary cutter blade from becoming blunt quickly.
Reduce the chance that a rotary cutter could harm you.
Cut through fabric and projects faster.
Make cut edges and lines more precise.
3 Top Cutting Mats for Sewing Projects
If you are looking to add a cutting mat to your sewing space, here are 3 top cutting mats to consider.
Cricut Stronggrip Adhesive Cutting Mat
Cricut StrongGrip Cricut Cutting Mat 12in x 24in
REUSABLE, DURABLE CUTTING MAT – Enjoy smooth and hassle-free cutting with Cricut StrongGrip Mat for crafting. Acting as an interface between your material and your Cricut machine, the craft mat hold your material in place, giving you clean cuts
STRONG ADHESION, LONG LIFE – The Cricut mat is designed to have the best possible adhesion and the longest possible life. The crafting mat comes with a clear protective film that protects the mat from dust and paper scraps, when not in use
VERSATILE USABILITY – Carefully engineered to take on a wide variety of heavyweight materials, the cutting mat for Cricut is compatible with specialty cardstock, glitter cardstock, chipboard, and fabric with stiffener, allowing for ultimate versatility!
The Cricut StrongGrip Adhesive Cutting Mat is available in two sizes: 12" x 12" and 12" x 24".
A pack comes with 3 pieces, and it supports heavyweight and lightweight materials.
One standout feature is the cutting mat's surface texture that ensures that your fabric stays in place while cutting.
Zerro Professional Self-Healing Cutting Mat
Sale
ZERRO Self-Healing Cutting Mat Professional Double Sided Thick 5-Ply with Imperial/Metric 18″ x 24″
DOUBLE-SIDED MAT:Professional-quality, double-sided mat with grid lines angles.Great for crafts, quilting, cutting projects or use as a desktop mat
ACCURATE CUTTING: The self healing mat contains different sets of CLEAR grid lines, ⅛ measurements, and angles that will GREATLY help the cutting process.
THICK WITH SELF-HEALING:3mm, 5-ply construction for heavy duty cutting, compatible with rotary cutters.Reseals surface cuts, providing a continually smooth surface for all cutting projects
The Zerro Professional Self-Healing Cutting Mat has gridline patterns on both sides, so you can switch and use any side.
The gridlines are graded in inches and centimeters, so you get to work with whichever is comfortable for you.
The mat has 5 layers that are all self-healing, so you can expect the cutting mat to last for a long time.
It also has a 3 mm thickness and is suitable for heavy and light-duty cutting.
Xinart Lightgrip Cutting Mat
The Xinart Lightgrip Cutting Mat measures 12" x 12". It is made from non-toxic PVC, which offers eco-friendliness and durability.
This mat is available in various colors including, blue, green, pink, and purple.
The mat has a great grip for holding fabrics in place as you cut, making it safe and easy to use.
The cutting mat also comes packaged with a clear film cover. This cover protects the surface of the cutting mat from dust and prolongs its lifespan.
Final Thoughts
Cutting mats are great add to any sewing space. They can add speed, safety, and accuracy to your projects if you work with rotary cutters or other sharp tools. Since there are many options, shapes, and sizes, be sure to consider your space and work style before purchasing a cutting mat.
Resources