*This post may have affiliate links, which means I may receive commissions if you choose to purchase through links I provide (at no extra cost to you). As an Amazon Associate I earn from qualifying purchases. Please read my disclaimer for additional details..
If you have a project that requires sewing, but your sewing machine is unavailable, you might be looking for alternatives.
Aside from hand sewing, you might consider whether an embroidery machine would be a good substitute.
Can you sew with an embroidery machine?
Whether you can sew with an embroidery machine depends on the specific machine itself. Some embroidery machines are built only for embroidery. However, some machines are designed to both embroider and allow for simple sewing tasks.
Can You Do Regular Sewing With an Embroidery Machine?
To choose the right machine for your project, it is important to understand the differences between a sewing machine and an embroidery machine.
The technical word for the type of sewing done on a regular sewing machine is construction sewing.
Depending on your embroidery machine, you may be able to do construction sewing. It is important to check the machine manual and settings to make the right determination.
There are various brands of embroidery machines. Some of these brands are made for embroideries only. In essence, you can only make stitch designs on clothes with them.
There are also embroidery machines that allow for both decorative sewing and construction sewing. These embroidery machines usually have an embroidery unit that can be detached when you need to do regular sewing.
Do All Embroidery Machines Allow Regular Sewing?
Not all embroidery machines are allow for regular or construction sewing. Some embroidery machines are embroidery-only.
More times than not, you'll find that embroidery machines can make embroideries and do regular sewing. The main difference between an embroidery-only machine and a dual-purpose embroidery machine is a feed assembly.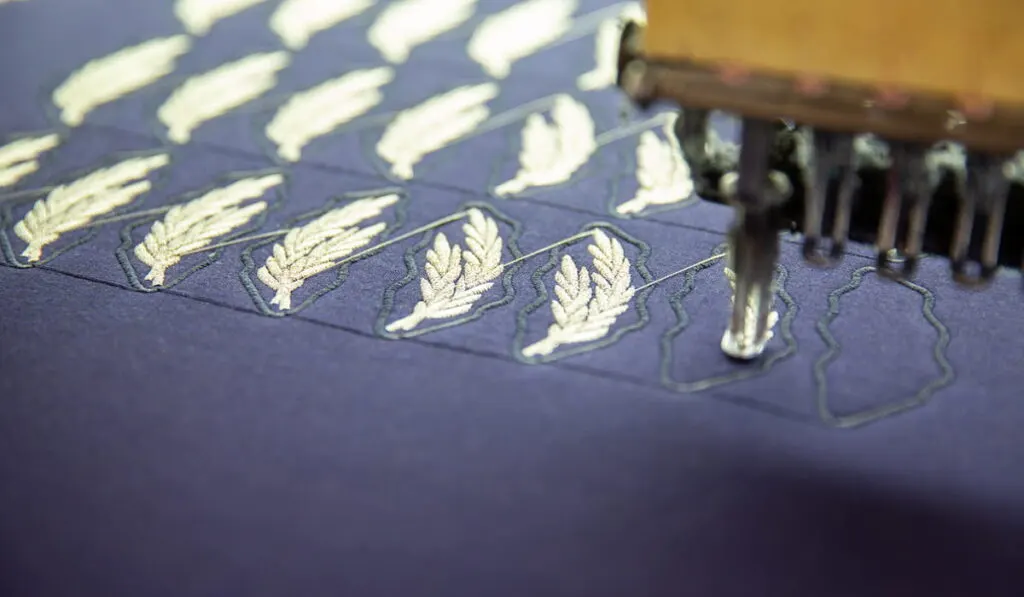 Typically, embroidery machines that allow regular sewing will come with a detachable embroidery unit.
Whenever you want to do regular sewing, you slide it off, and when you want to make embroideries, you slide it back on. With some brands, such as Viking, you don't have to remove the embroidery unit.
You'll find that in most cases, industrial embroidery machines cannot be used for regular sewing. They are usually highly-specialized for just one function – embroidery.
If you want an embroidery machine that allows regular sewing, you'll find more luck searching for home embroidery machines.
What Are the Best Sewing and Embroidery Machines for Beginners?
If you are considering embroidery machines, you may want to purchase one that also allows for regular sewing to give you more options.
We've reviewed some of the best sewing and embroidery machines for beginners below.
Brother SE400 Combination Computerized Sewing and 4×4 Embroidery Machine
This product is a computerized sewing and embroidery machine that comes with 185 built-in stitches. You can also upload your own stitches on the machine. The Brother SE400 has computer connectivity ports for this purpose.
This product comes with an LCD display, making it easy to follow the feedback from the machine.
If you hate the stress that comes with threading a sewing machine, you will love this product. The Brother SE400 features an automatic threader.
Also, you do not need a task light to illuminate the needle. This machine comes with built-in lights that do the job well enough.
If you are thinking of embroidery space, the Brother SE400 comes with a 4 x 4 embroidery hoop.
Brother SE600 Sewing and Embroidery Machine
Brother SE600 Sewing and Embroidery Machine
80 Built-in designs: The SE600 comes with 80 built-in designs and 6 embroidery lettering fonts for personalizing your projects.Maximum Embroidery Speed (spm) : 400. UL/CSA Listed Voltage : 110v.
Automatic needle threader and drop-in top bobbin: This sewing and embroidery combo machine includes an automatic needle threader that perfectly pushes the thread through the needle and a convenient, jam resistant drop-in top bobbin
103 Built-in sewing stitches: This machine features 103 sewing stitches including 10 styles of auto-size buttonholes. Maximum Sewing Speed (Stitches per minute)- 710
The Brother SE600 comes with 103 inbuilt stitches, 80 inbuilt designs, and 6 lettering fonts.
Like the SE400, it uses an LCD screen, and the embroidery space is a 4 x 4 embroidery hoop. The display of the SE600 differs from that of the SE400 because it has a touchscreen feature.
With the touchscreen display of the SE600, you can easily navigate, select, and adjust designs before you use them. You'll also find that it comes with the SewArt software, which allows you to create your own designs.
Like the Brother SE400, you will not need a task light. The SE600 comes with built-in LED lights to keep your needle area lit. You also do not have to bother about threading since this machine features an automatic threader.
SINGER Futura XL400 Portable Sewing and125 Embroidery Design Machine
SINGER Futura XL400 Portable Sewing and125 Embroidery Design Machine including 30 BuiltIn Stitches
SINGER EMBROIDERY SEWING MACHINE: The SINGER Futura XL-400 sewing and embroidery machine has 30 popular built-in sewing stitches with two fully automatic one-step buttonholes and also boasts 125 built-in embroidery designs with five fonts and outline lettering
SEWING MACHINE WITH LED OPTIONS: Fills the sewing surface with light, making it easier to view your work and eliminating eye strain. Watts (120),Volts (120V),Hz (60). Embroider customized text such as monograms and fun phrases
The Singer Future XL400 has 125 designs, 30 stitches, and 5 fonts – all built-in. But you can add even more designs by connecting the machine to your PC through the USB. The software includes tutorials to make the process easy.
The sewing space is pretty large, and it comes with an embroidery hoop measuring 10 x 6 inches. There's an automatic threader, so you don't have to worry about threading the machine by yourself. Also, the needle space comes with LED bulbs for great visibility.
Besides the large hoop, the Singer Futura XL400 also supports multi-hooping. This allows you to sew designs as big as 12 x 20 inches.
Final Thoughts
You can sew with an embroidery machine if it supports regular sewing. While most embroidery machines allow regular sewing, not all of them do. Make sure to check all of a machine's features so that your purchase meets your project requirements.
Resources