*This post may have affiliate links, which means I may receive commissions if you choose to purchase through links I provide (at no extra cost to you). As an Amazon Associate I earn from qualifying purchases. Please read my disclaimer for additional details..
Mastering free motion quilting and getting comfortable with the craft doesn't come easy. However, with the right gloves, you can enjoy a tight grip on the material or attach the quilt binding without much struggle.
But did you know that quilting gloves do a lot more than provide convenience? Below we cover some of the reasons you should use quilting gloves.
1. Higher Level of Accuracy
Quilting gloves are designed with rubberized fingers that allow you to move and grip the quilt under the needle without it falling off your hands. A better grip allows you to control the quilt, which leads to more accuracy and better quilting result.
2. Muscle Fatigue Prevention
Muscle fatigue is common, especially if you've been sewing the whole day. Quilting gloves can reduce strain and discomfort to the fingers, hands, and wrists while quilting.
These gloves cover up to the first joint of the fingers from the wrist over the hands. You can go on quilting because the gloves are designed to fit snuggly. Quilting gloves position the supporting tissue and joints during quilting, while still ensuring that your fingers can move without any hindrance.
You can find gloves made from spandex, lycra, or nylon depending on the manufacturer. These materials are breathable and allow freehand movement.
Some manufacturers also ensure that the gloves provide relief from other conditions like carpal tunnel syndrome, tendonitis, arthritis, and continuous motion syndrome.
Although the gloves won't cure the condition, they can reduce the discomfort and aggravation as you quilt. Experts advise on having at least two pairs of gloves, in case you need to continue quilting and wash the other one. 
3. Better Grip
The right pair of gloves have a lightweight and comfortable material that provides a better grip at the fingertips. Manufacturers also add some amount of padding to the fingertip to reduce hand fatigue, while ensuring a better grip for your fingers. You can easily stitch in and out with ease.
4. Prevent Accidental Cuts and Wounds
Quilting gloves are a must-have as quilting takes a toll on the skin. Apart from the needle pricks, stitching can also leave your fingers sore from the layers of batting and fabric. A few quilters also use rotary cutters that come with a certain risk. With quilting gloves, you can protect your fingers from accidental cuts and wounds.
5. Keep Your Hands Clean
Quilting gloves ensure that you don't leave stains on your quilt. These gloves are also simple to clean, which goes a long way in maintaining hygiene.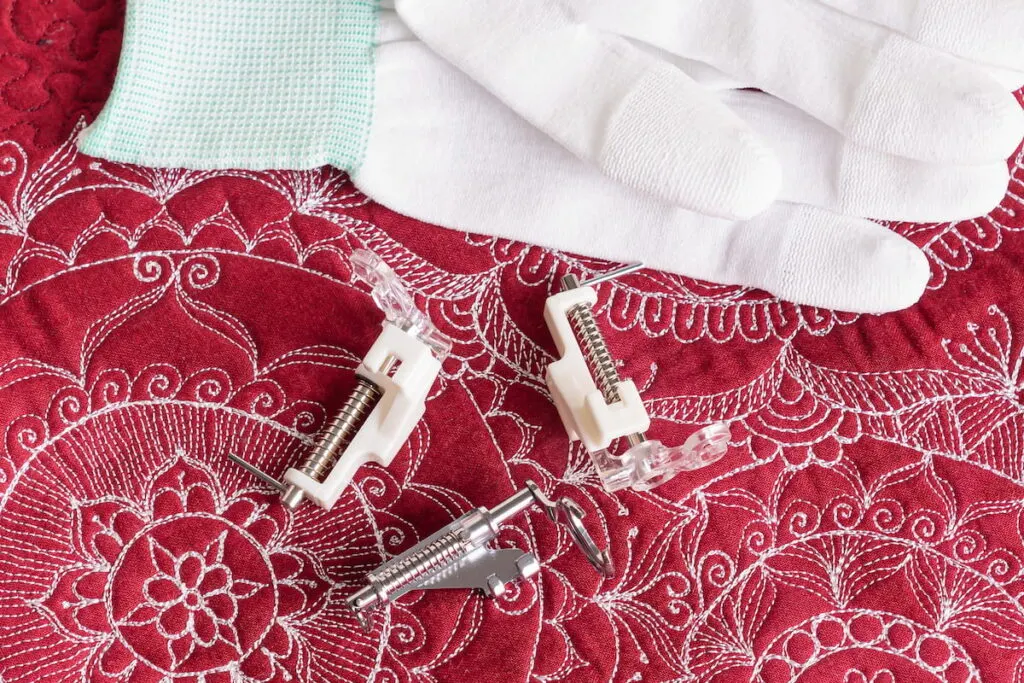 What to Look for in Quilting Gloves
There are various types of quilting gloves depending on your preferences and budget. We understand that settling on one pair of gloves can be overwhelming. Here are some tips on what to look for when buying.
Comfort
Find quilting gloves with a breathable type of fabric as they reduce sweating. Avoid anything bulky and thick.
Quilting gloves should be made of a lightweight fabric that ensures your fingers are not restricted. It's also vital to get the right size, as getting a small pair can be uncomfortable, and a bigger pair will make sewing difficult.
Most manufacturers will have their gloves in four sizes-XL, M/L, S/M, or XS. You need to measure the distance between the top of your middle finger and the base of your palm. A size XS works if the measurement is less than 6.25 inches.
However, if you find this measurement to be greater than this but less than 7 inches, a size S/M would be ideal. An XL size is better for measurements greater than 7.75 inches. A seamless design prevents any rubbing on the hands that can lead to discomfort and blisters,    
The Material Used
Most quilting gloves are made of nylon and cotton, but there are some made out of spandex or neoprene. The right material choice will depend on your needs. For example, if you're looking for a better grip, neoprene or rubber would be a great choice.
However, if your goal is breathability, you should opt for cotton gloves. Spandex gloves offer some mild compression, while also ensuring you get a tight and comfortable fit. A few gloves will combine nylon and spandex for both quality and stretchiness.
Some manufacturers produce steel-embedded gloves. They are meant to provide the maximum level of protection.
Flexibility
You'll need a pair that provides flexibility if you're planning on using your gloves for quilting. The right pair makes it easier to thread your machine without taking the gloves off.
The Design of the Gloves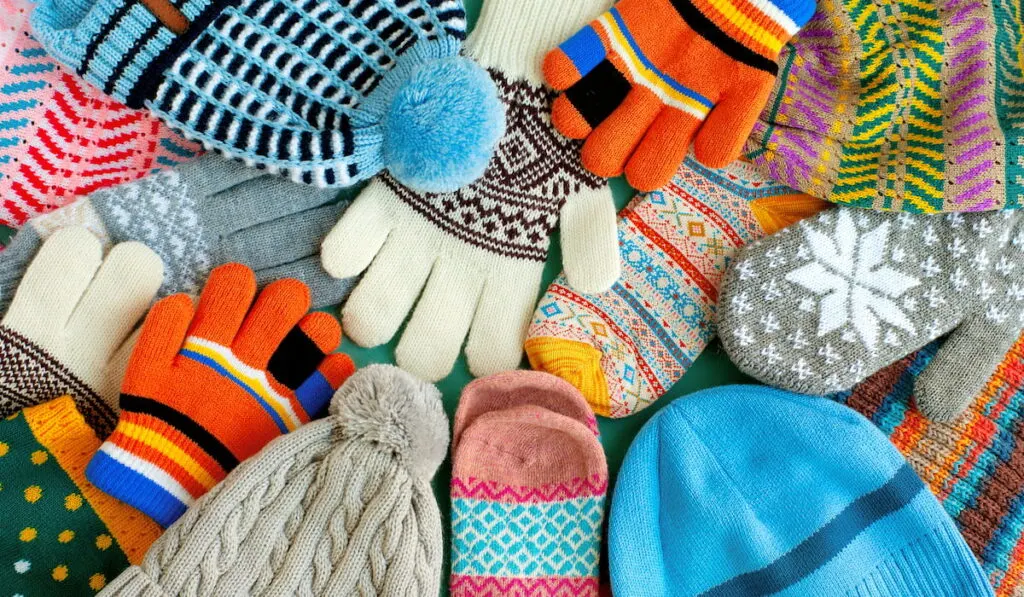 Quilting gloves come in different designs depending on their main purpose. For example, the Marcia Baraldi Quilting gloves have an open design that allows them to provide a better grip as opposed to protection.
You'll also come across gloves meant to provide protection and better grip as they have multiple rubber dots. Other gloves like the Machingers quilting gloves are fully coated to provide a good grip, while still offering you a level of protection as you sew.
Certain gloves come as a pair, which allows you to wash them, easily. However, if you prefer to wear a single glove, certain manufacturers sell a single glove that can fit on your right or left hand.
Check the Product Description
The manufacturer states on the product description if a pair of gloves need to be used when changing a bobbin or thread the machine. You'll also find the washing instructions stated in the description. Some gloves can only be hand-washed, but others need to be machine washed.
Final Thoughts
Quilting is labor-intensive and the extended period of repetitive movements can lead to fatigue and cause pain to your wrists and hands. Individuals with pre-existing issues like arthritis can experience severe symptoms.
Fortunately, the right quilting gloves can provide relief, give you a better grip, and offer a higher level of accuracy.  
Sources