*This post may have affiliate links, which means I may receive commissions if you choose to purchase through links I provide (at no extra cost to you). As an Amazon Associate I earn from qualifying purchases. Please read my disclaimer for additional details..
An overlock machine is used to lock the edges of fabric or sew two pieces.
It uses multiple thread cones and two needles, a looper thread encloses edges. Depending upon the type of overlock machine, you can use it for decorative hemming, flatlock stitching, edge rolling, and elastic sewing.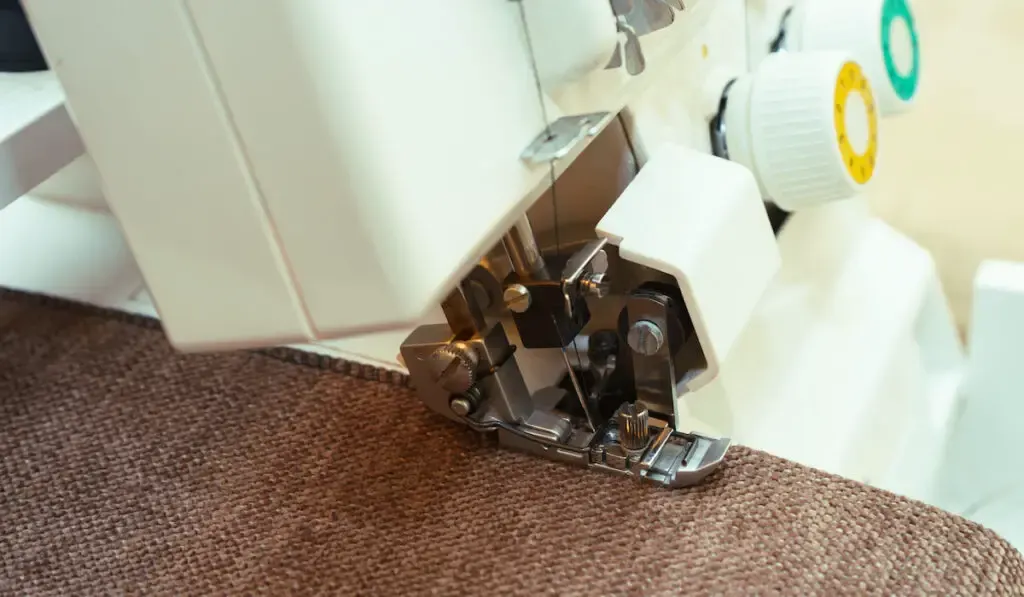 Let's go over some details on the overlock machine and how it can help aspiring sewing ninjas out there.
What is an overlocking sewing machine?
Overlock machines use multiple thread cones rather than bobbins. These cones feed machines with loopers.
Loopers pass the thread through the needle so the edge of the fabric is contained within the loop. This method prevents the frying of raw edges.
The Serger knife, or cutter, trims excess fabric for a clean and even hem. It acts more like a knitting machine than a sewing machine.
Overlock machines are an essential part of commercial sewing to get a professional finish, especially in garment stitching.
Difference between a serger and an overlock machine?
Most of the time, the term 'overlock machine' and 'serger' are used for the same product. Initially, overlock machines that came with cutters to trim the edges were called 'Sergers'.
Now almost all overlock machines are manufactured with trimmers, so both terms are used interchangeably.
The term 'Serger' is common in the USA. However 'overlock machine' or 'overlocker' is used in most other parts of the world, including the UK and Australia.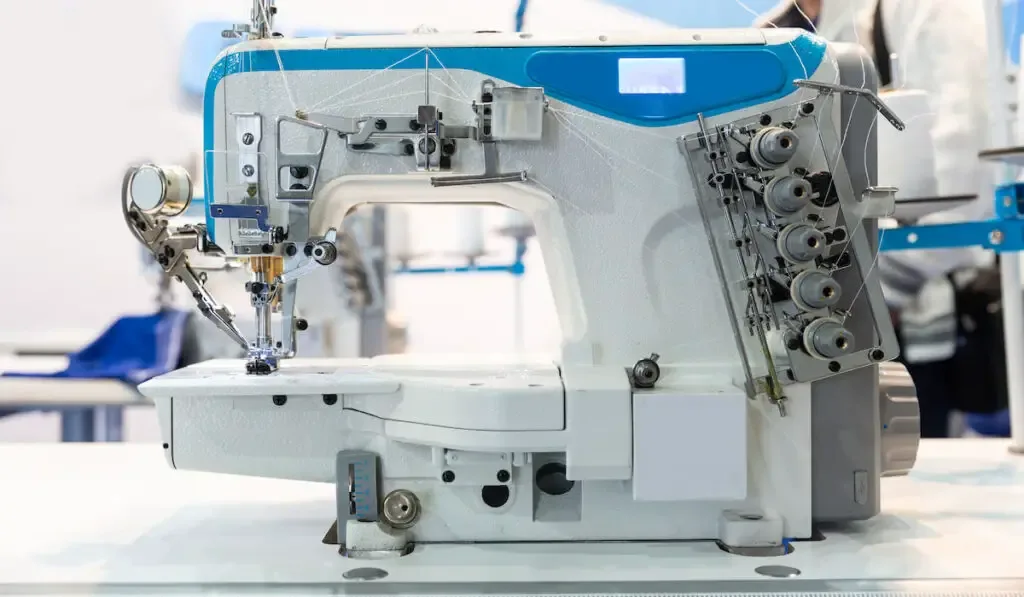 Types and functions of Overlock stitches;
Butt-seaming
It's a single thread stitch, used to sew two pieces of fabric together. Also called end-to-end seaming, it is used for textile finishing. Although this type of stitch is not very strong.
2 thread stitching
This is a standard overlock stitch. Double thread overlock is good for edging lighter fabrics. It is also used to attach elastic and lace.
Although it's good for light items like lingerie, the stitch itself is not very strong so mostly it is used to finish raw edges.
3 thread stitching
Triple thread stitch is stronger than double thread so it can be used for seaming the fabrics for regular use. It can sew decorative patterns on edges.
If you want to create pintucks, this type of stitch should be the choice.
4 Thread Stitching
It uses 4 threads, so the stitch is bulkier and stronger.
It can be used for heavy use fabrics. Although it's a dense stitch, still the overlock pattern retains flexibility and acts as a backup. It's also suitable for colorful decorative finishing.
5 thread stitch
It's the strongest type of overlock stitch. The machine uses 2 threads for straight stitches and 3 threads for overlooking loops.
You do not need to reinforce a 5-thread stitch with a straight stitch. This feature comes with expensive machines, commercially used for seaming fabrics like denim and terrycloth.
Rolled hems
Overlock machines can beautifully wrap the edges of the fabric. It seams the edges but also stops it from frying. Rolled hems are great for lightweight fabrics like silk and tulle.
Flatlock stitch
A flatlock stitch joins two fabrics without a visible seaming allowance. It reduces the bulk of a joint hem. Mostly this type of stitch is used in sportswear or fleece fabric to reduce friction with the skin.
Blind Hemming
You can hem woven fabrics or a stretchy shirt with an overlock machine.
It only needs a special sewing foot called 'blind stitch foot' that comes with the machine. It creates an invisible hem much better and easier than a regular sewing machine.
Why would you need an overlock stitch?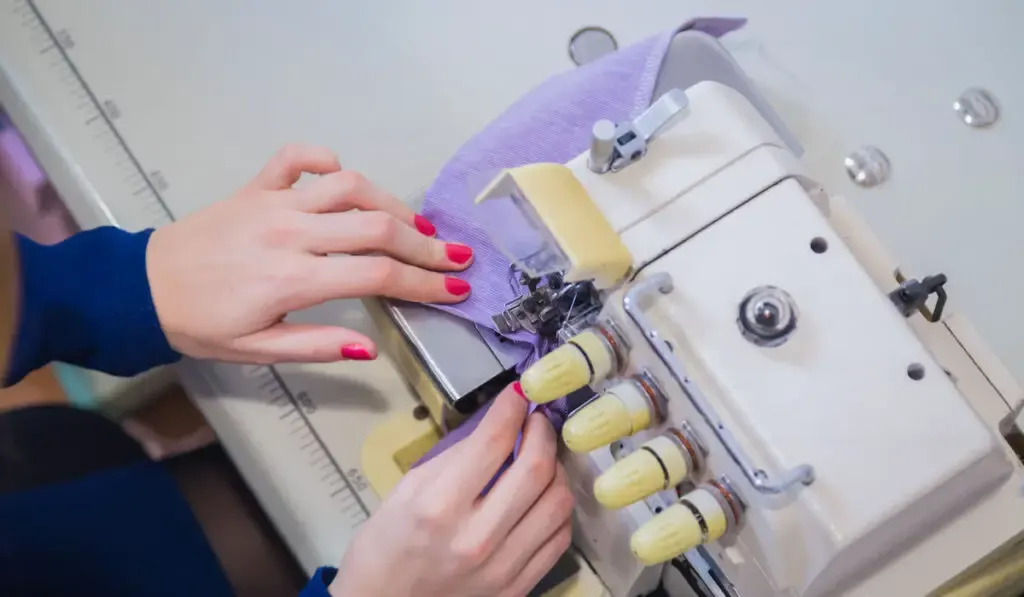 We can list a score of reasons why you need an overlock stitch on your clothes. Let's go over some most interesting things that an overlock machine can do.
1. Flawless seams
The store-bought garments always have those clean, flawless seams that you cannot create with a simple sewing machine.
Unfinished seams are not beautiful neither durable. In fact, the fabric will unravel within a few uses, and those edges will fray.
So if you often fiddle with garments an overlock machine can hugely improve the durability of the clothes.
2. Saves time
An overlock machine can halve the time you normally spend sewing a piece. It can do 5000 stitches in a minute.
You can whiz through the seams, no need to stop and roll every minute. It cuts extra edges to perfection and a clean invisible stitch improves the quality.
3. Suitable for elastic fabrics
If you have worked with elastic or knitted fabric, you must know the effort it takes! Overlock machine efficiently guides and sews such difficult fabrics.
In this machine, the fabric is fed with the help of differential feed. That creates a neat look and much more comfortable waistbands and intersecting seams. Plus, you can stitch lingerie in a breeze.
4. Decorative stitching
With multiple setting choices, an overlock machine can finish ruffles, pillow covers, curtains, and other home décor garments.
It nicely secures the edges and saves your fabric for heavy laundering. Not just the seams, but you can create beautiful ruffles and rolled hems for table linens and mirror curtains.
Can an overlocker do a straight stitch?
A straight stitch is one we use on a regular sewing machine; An overlock machine cannot sew a straight stitch. It can only join seams.
You can sew some easy patterns such as T-shirts only using an overlock machine. But, in woven fabrics, the seam will fray without a backup straight stitch.
How to use an Overlock machine?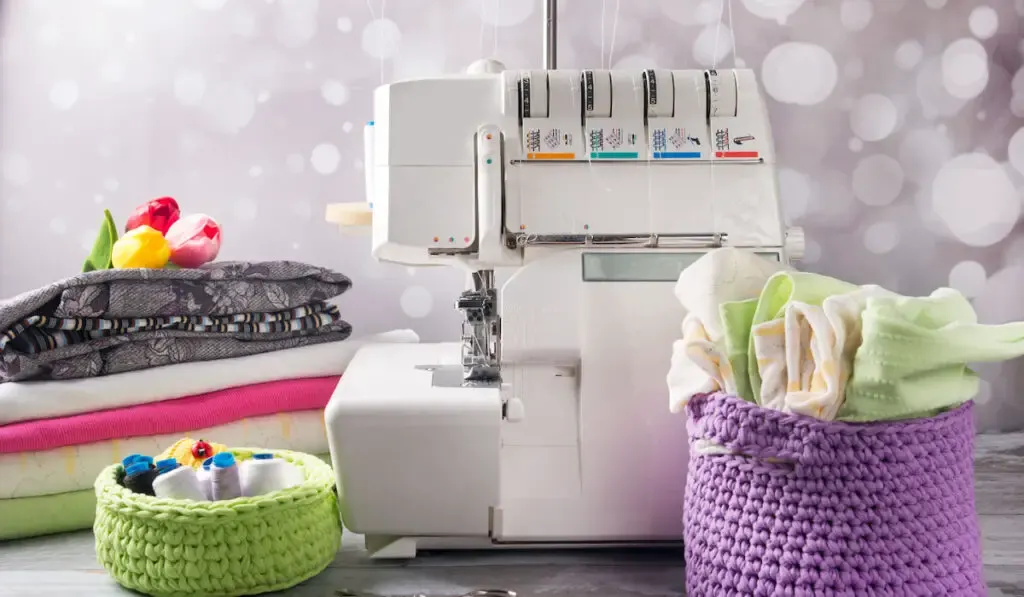 Honestly, it can be intimidating at first sight. There are lots of threads going in all directions and you don't have a clue of the organization. But all you need is a little practice.
The first thing you should do is read the manual cover to cover, understand it, and then try. Keep practicing on scraps.
Try sewing different stitches on a different type of fabric. Understand the feed and tension of the thread, if your machine has that function. 
Some machines need oiling before first use. It's not that complicated just give a little time. Like anything in life, you are going to get it with practice.
5 projects you can make with an overlocker
We know you must be itching to use your serger now. We bought you some fun and easy projects to start with the amazing one-stop machine. Enjoy sewing!
1. Custom Pillow Case
The best piece to start with is a crafty, beautiful pillowcase. Find a vibrant gorgeous cloth for a throw pillow or make customized bed pillows for the children.
After all, who doesn't love a set of sleeping buddies with your favorite superhero? Sew beautiful hems, ruffles, or just a simple cover that can change the mood of a room!
2. A blanket or Quilt
Fashion a colorful fleece fabric into cozy blankets or wraps or assemble some wooly cakes to create a quilt. This simple project can upgrade your home décor in dull winters.
3. Infinity Scarf
We know scarves can never go wrong. Use any type of fabric, from silk to fleece to wovens, and create a versatile accessory. You will get a lovely, luxurious scarf to flaunt in just a few minutes.
4. Elastic headbands
These classic pieces of vintage fashion are back in trend. We know that overlock machines give just perfect stitches to elastics.
Just create sophisticated ruffles or make an elegant headband with silk and get the look of a runway model and the biggest plus is, homemade bands are best to protect your hairs.
5. T-shirts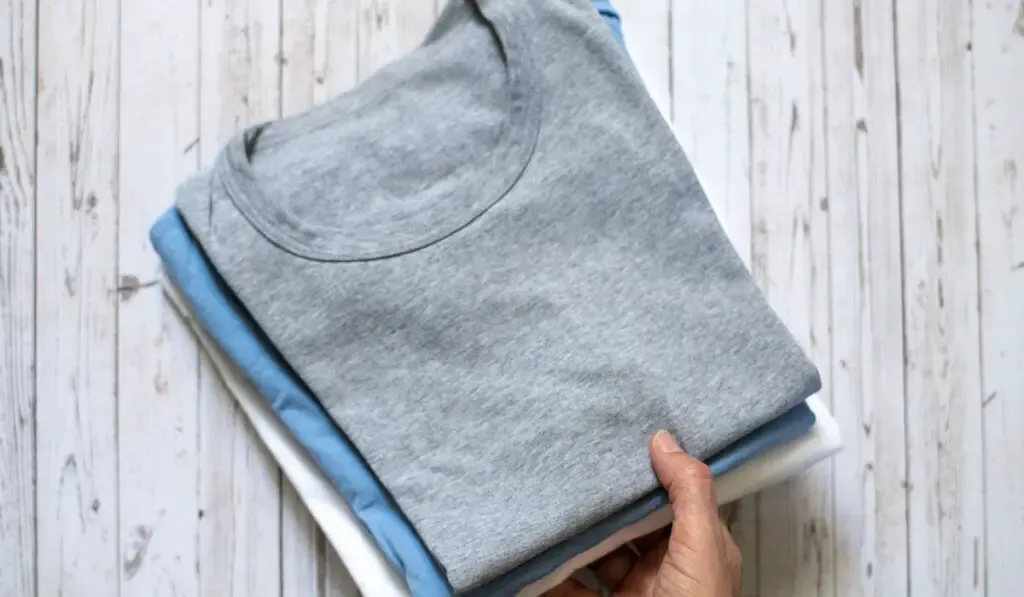 Once you have learned to handle the machine, it's time to jump on wovens. What is better than a soft breezy T-shirt?
We advise using 100% cotton or 95% cotton fabric. Draw your pattern, cut the fabric, and go on to create a tailor-fit, chic shirt.
We hope this article helped you understand the use of overlock machines.
If you have decided to get one for yourself, we wish you luck with some beautiful, crafty pieces. You are going to love this addition to your sewing collection.
Sources