*This post may have affiliate links, which means I may receive commissions if you choose to purchase through links I provide (at no extra cost to you). As an Amazon Associate I earn from qualifying purchases. Please read my disclaimer for additional details..
If you are bored of sewing regular clothes and making regular embroidery designs, here's monogramming to the rescue! You can create seemingly infinite customized items doing monogramming.
Monogramming means the fusion of two or more letters to create a particular design. The chief purpose of a monogram is to embellish an item or to show possession of something.
Monogramming became popular in the 4th century when Greeks used to embed their initials on coins.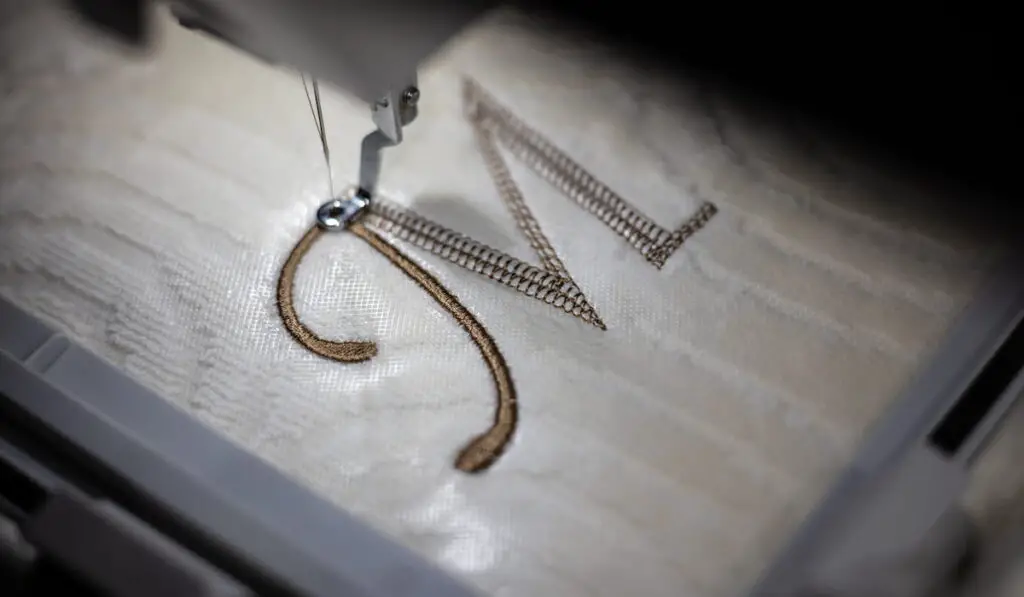 However, it has become a trend of the present day as well. You can personalize quilts, bags, pouches, covers, beddings, jewels, logos, key chains, and many more. During monogramming, if the letters are not fused, then it is not a monogram.
Sometimes people tend to confuse embroidery with monogramming; however, there is a prominent difference between the two of them. Monograms include only the small patterns of initials, while embroidery can be any design.
Here are some of the best sewing machines you can use to extend your monogramming or embroidery business. These easy-to-use and durable machines carry unique features and accessories to make things easy for you.
1. Brother SE1900 Sewing Machine
If becoming a designer has been your dream since childhood, however, hand embroidery is tiring for you, worry no more!
BrotherSE1900 is there to bring your dreams to life. You can create different intricate patterns on your tee shirts, pants, scarves, duvet covers, pillowcases, etc. Make phenomenal embroidery designs with a five-by-seven embroidery field.
This model comes with a big color touch display screen and built-in patterns to give you inspiring ideas. You can enjoy the union of sewing and embellishing experience with this machine.
You can make assorted designs without any pattern on the cloth with the help of its 240 built-in sewing stitches and monograms and customize those using 11 already fitted fonts. Its feed system is there to make sewing an easy task. Most of the users of this machine were satisfied with the function of the machine.
Price
This machine comes at quite affordable prices. Beginners to intermediate stitchers can get this item without a second thought.
Power
BrotherSE1900 is electrical, treadle powered.
Accuracy
Brother is known for its accuracy. This item will continually amaze you with its accurate stitching and embroidery.
Design
This machine comes with a touch screen that allows you to operate the machine with ease. It has several already fitted designs, sewing stitches, monogramming fonts, and a USB port.
Warranty
If anything goes wrong with the machine, Brother has got your back. It comes with a 25-year, limited warranty.
2. Juki HZL-F600 Computerized Sewing and Quilting Machine
Brother Company is known for its exceptional quality sewing machines. If you have been worried about uneven stitching, skipped stitches, and other such problems then Juki HZL-F600 is for you. This is a high-quality machine that allows you to design your shirts, trousers, bedding, quilts, pouches, pillowcases, and many more.
Its fixed, wide variety of stitches will help you create intricate designs for every purpose. You can create monograms to customize your clothes. This machine has a great rating because of its durability.
It has an independent bobbin winder, automatic needle threading option, extension table, LED light, and many more features to make your stitching experience fun.
Its other features include 225 already fitted stitches, adjustable speed options, automatic needle threading, and trim options.
Price
It is a bit expensive for beginners. If you do not have experience regarding stitching and embroidery you should practice on some other machine before investing in this one. Once you are trained and ready to buy it, it will be worth it.
Power
This is a high-powered machine which allows you to stitch for one hour without stopping.
Design
This machine has a hard metal frame with a powerful motor to allow you to quilt easily.
Warranty
It comes with a 5 year warranty.
Accuracy
Accurate stitching of Juki HZL-F600 allows you to use it at an industrial level.
3. Janome 4120 QDC Computerized Sewing Machine
If you are a beginner and want a starter sewing machine, then Janome 4120 QDC is for you. It is an easy-to-use, durable, computerized machine that you can use for monogramming, quilting, and creating different beautiful patterns on your clothes.
It has an LCD screen which you can use to choose a design of your own choice. It has an automatic needling function which saves you from putting the thread in the eye of the needle. It comes with different accessories. Many fonts of alphabets are already fixed in the machine for monogramming.
You could make personalized monograms on shirts for intimate gifts. Most customers were satisfied with this item.
Price
Janome offers this item at quite an affordable price.
Power
It is a treadle powered machine.
Design
Janome 4120 QDC has a strong and sturdy frame with 120 stitches, twin-needle, mirror stitching, etc.
Warranty
Its warranty is 25 years for mechanical parts, 2 years for electrical parts.
Accuracy
It gives you perfect designs with its control panel. You can achieve even detailed intricate patterns with extreme accuracy.
4. Brother XR9550PRW Sewing and Quilting Machine
This item by Brother is a great option for people who want to start today. Its several built-in features make sewing fun and easy. Its 165 fitted stitches help you in creating a wide variety of designs. It saves you from the hassle of putting the thread in the eye of the needle.
Its LCD permits you to function properly. This item is quite easy to use and durable. That's why it has a 5-star user experience rating.
Price
Most anyone can afford this item easily. Even beginners who just use it for fun could buy it without regretting it.
Power
It is an electrical treadle-powered item.
Design
It has a metallic body with an LCD and an extension of the table.
Warranty
It offers a warranty of one year from the day you bought it.PE535
Accuracy
This versatile machine is known to produce neat and perfectly accurate designs.
5. Brother PE535 Embroidery Machine
The Brother PE535 is an amazing and handy machine for people of every skill level. It has 80 installed designs, with 9 different fonts available. It has an LCD color touchscreen and a USB port for uploading your own designs and ideas.
This machine comes equipped with a 4″x4″ embroidery hoop, a feature that comes in handy for beginners. You could create your own monograms exactly the way you want them with this smart technology and preview them on the screen before you begin to stitch.
Price
It might be a little costly for you but once you buy it you will not regret it.
Power
This is a corded model.
Design
It is a white-colored machine that offers a broad and bright area for stitching, with an optional 4″x4″ embroidery hoop.
Accuracy
It creates perfect sleek designs on clothes.
Warranty
It carries 25 years of limited warranty with free online or phone customer support for the life of the machine.
6.  Heureux Z6 Sewing Machine
Heureux Z6 is a reliable item that you can use to embellish any piece of cloth. It comes with 200 built-in stitches and it is not complicated at all. It has an automatic needle threading feature. You will not have to deal with fixed needle position because it has an adjustable needle position.
Its LCD makes it easy for you to choose specific designs. Along with doing monogramming, you can also enjoy the benefits of decorating towels, bedding, and many other accessories. Customers were quite satisfied with this item. The only thing they complained about was its noise.
Price
You can get Heureux Z6 at quite affordable prices.
Design
It comes in plastic and metal or aluminum foil frames with double needling, decorative heirloom, and alphanumeric features.
Power
It is powered by an electronic foot controller.
Accuracy
It gives you amazing and perfect designs because of its specialized automatic features.
Warranty
The warranty for this product is not specified.
7. SINGER 9960 Quantum Stylist Computerized Portable Sewing Machine
SINGER 9960 is a reliable and easy-to-use sewing machine that can bring your monogramming dreams to life. It has six hundred already fitted stitches and 5 alphanumeric fonts for creating monograms of your choice.
Its high-speed feature allows you to sew a substantial number of clothes in a noticeably brief time. An automatic needle threader saves you from eye strain. You can also use it for bigger and industrial projects. It comes with a table extension to permit you to sew quilts. This item has five stars in the user experience category.
Price
Singer 9960 is known for its affordable prices. This item by Singer has relatively lower prices as compared to other items of Singer.
Design
Its amazing design creates ease for beginners as well. It has the perfect design to create different creative designs with its adjustable needles of varied sizes.
Power source
It is powered by corded electricity.
Accuracy
Along with experts, beginners could also get detailed intricate perfectly accurate designs.
Warranty
It carries a one year warranty.
8. Brother PE800 Embroidery Machine
This machine by Brother is ideal for monogramming. It carries 138 internally built stitches including different intricate patterns, floral designs, and scroll works. Its 11 already fitted fonts will help you create amazing monograms and letters to personalize your shirts, pouches, quilts, etc.
LCD colored touch screen helps you to operate the machine easily and create beautiful designs. International Brother always has delighted customers.
Price
IF you want to get the best low-priced machine just for the sake of fun sewing get Brother PE800. It is a best seller with the most affordable price.
Accuracy
This machine gives you perfect polished and magically dazzling designs.
Design
It has a plastic frame with a USB port and touch screen LCD. Its design is known for its durability.
Power
It is powered by a treadle.
Warranty
It carries a one year warranty from the original purchase date.
9. Brother PQ1500SL
Brother PQ1500SL is a high-speed machine that allows you to create distinctive designs in a noticeably short time. you could make 1500 stitches in a minute using this amazing high-quality item by Brother.
As a high-speed machine works best for monogramming, this item by International Brother is for you. It includes an automatic needle threading system that saves you from the hassle of threading it yourself.
It comes with many accessories including seven sewing feet, a knee lifter, and many more. This machine is so easy to use. Overall, customers were satisfied with the item, some had to struggle with minor adjustments.
Price
This item is not as cheap as one might expect but, it's still cheaper than its competitors. Nobody wants to compromise the quality just to get a cheaper product. PQ1500SL has quite a reasonable price for its quality. Its cost is the best for quilters.
Design
It has a metallic frame with a wide table to sew quilts. It also has a wide range of foot pressure adjustments and an automatic thread trimmer.
Power
It is a treadle-powered machine.
Accuracy
It has such an amazing and ideal quality of features and accessories that you can sew just about anything within a short time without compromising the quality of the work. Its wide table gives you the full grip of the cloth which also helps in creating a great monogram.
Warranty
It has a 25-year limited warranty.
10.  SINGER 7258 SEWING MACHINE
Singer 7258 sewing machine is a fully computerized machine with excellent stitching selection. It has twin needles and an efficient tension system. You can fabricate a variety of designs and patterns using this machine. It has seventy-six decorative stitches and one hundred stitch options.
The best advantage of this machine is that it is suitable for every skill level. You can generate many designs ranging from simple to very intricate.  Beginners can use it to make small projects like monogramming on dolls' clothes, baby quilts, etc. People left quite complimentary reviews on this item.
Design
This machine has a white-colored plastic or metallic frame. It is handsome looking, sturdy, and has a heavy-duty motor. It comes with 10 pressure feet, buttonhole, zipper, blind hem stitch, automatic needling, etc.
Price
If one is specifically looking for a low-priced sewing machine, this the one.
Accuracy
Its automatic stitching system allows you to create an accurate and perfect design without leaving any gaps or other mistakes.
Power
It uses corded electricity as its power source.
Warranty
It carries a 25-year limited warranty.
11. EverSewn Sparrow 30 Sewing Machine
EverSewn makes electronics as good as any other famous brand. For beginners who are looking for a simple and basic design, this one is for them. You can easily alter your curtains, quilts, and many other damaged things in the house. It includes many decorative and embellishing options to let you express your creativity.
It offers 310 stitches which include 84 decoratives, 32 utility, and 2 full alphabets. Fabricate your initials to make your stuff customized. Many users were satisfied, some found it a bit boisterous.
Price
EverSewn offers quite affordable costs to its customers. It has the best prices for its performance.
Design
It is a powerful and well-built machine. It has a zigzag foot, zipper foot, buttonhole foot including slides, and button-sew-on foot.
Power
They are powered by a treadle or electricity.
Accuracy
This powerful and professional-level machine is known for its accuracy.
Warranty
It comes with one year warranty.
Frequently Asked Questions regarding Monogramming
Below are some of the most common questions people ask about monogramming:
What might be the cost for monogramming machines?
The prices of monogramming machines vary according to their features and accessories. If you are looking for industrial-level machines it will cost a lot more than the one you use at a lower level.
Their cost could range from $300 to $5000 depending on the machine type.
How complicated are monogramming machines?
Some machines are easy to use as compared to others. If you have been using monogramming machines, then it's not hard to comprehend complicated items. Some machines come with computerized systems. If you are naïve about using a computer, it might be a bit difficult to use computerized machines.
However, there is no need to be worried about learning to operate a machine because these machines come with an instructional manual, video tutorial, or DVDs. You can also contact the company if you still feel confused.
What is the purpose of the monogramming foot?
Usually, monogramming feet are there to turn a sewing machine into a monogramming machine. You can just attach it to a sewing machine and notice the stitches because the monogramming foot is a bit larger than the regular sewing machine foot.
It also permits you to create designs such as eyelets, hemming, scallops, and heirloom stitches.
What is cipher monogramming?
In Cipher monogramming, the letters are categorized in two or more sets that are fused aesthetically. However, you can easily recognize the letters that make the cipher.
They usually fuse, without sharing any of their parts. They just combine in such a way that presents a cipher image.
What is blind monogramming?
In blind monogramming, there is not a contrast between the surface and the foil. It will be white on white or black on black. This is a traditional style to give a classic look.
What is the correct order of the monogram?
There is no strict limitation to design a monogram. However, there is a classic way which people tend to follow while monogramming which is adding the last name initial in the middle in capital form. The other two initials stay in smaller fonts.
For instance, if your name is Chandler Muriel Bing then the monograms would look like cBm.
How hard is monogramming?
Monogramming is not a challenging task. However, it might be a bit tricky if you have never used a sewing machine before.
Sources