*This post may have affiliate links, which means I may receive commissions if you choose to purchase through links I provide (at no extra cost to you). As an Amazon Associate I earn from qualifying purchases. Please read my disclaimer for additional details..
Linen textile is one of the many materials used to make clothes. It is made from fibers of the flax plant.
One peculiar property of linen is that it is sustainable.
It is strong, easy-to-dry, and holds colors quite comfortably. However, it is prone to wrinkling due to its slight elastic nature.
We discuss in this article how to get the best out of your linen fabric.
You will get pro tips to help you when sewing with it, and we also highlight projects you can make with it.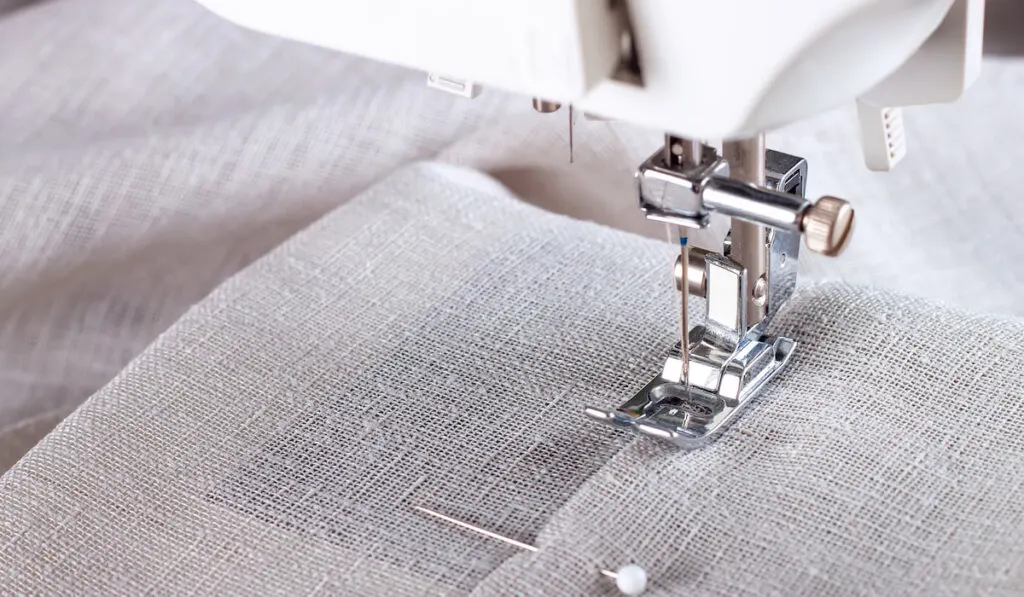 Is Linen Hard to Sew?
Sewing linen to produce beautiful outfits isn't any more difficult than using other kinds of materials.
Fashion designers love linen because it is neither too slippery nor too stretchy, giving it a friendly connection with sewing machines.
It may require a little effort to get your desired outfit, but as the saying goes, nothing good comes easy.
Plus, every clothing material has its dos and don'ts when it comes to sewing.
There are some steps you have to consider when sewing a linen outfit.
If properly followed, the results far outweigh the efforts, time, and energy dispensed to make the outfit.
Tips for Achieving an Easy Sewing With Linen
1. Select the Best Linen Material
There are different types of linen materials, and they fit into different kinds of projects and outfits.
In many ways, the fabric's weight dictates the kind of linen that should be selected for the intended outfit.
Light linen fabric is suitable for casual outfits and children's clothes.
On the other hand, medium-weighted linen is best for handier apparel like shirts and trousers.
The heavy-weighted linen fabrics are most suited for sweaters, cardigans, summer suits, jackets, or pullovers.
Since linen is not stretchy, you can use it for almost any kind of outfit. The obvious exception is outfits that need a stretchy fabric.
Apart from the weight and texture of the selected linen fabric, the color and print are also worthy of consideration.
The right kind of color and print will help sell your project faster and easier.
For example, bright and flashy colors should be of higher consideration when sewing children's outfits.
You should also consider natural undyed linen.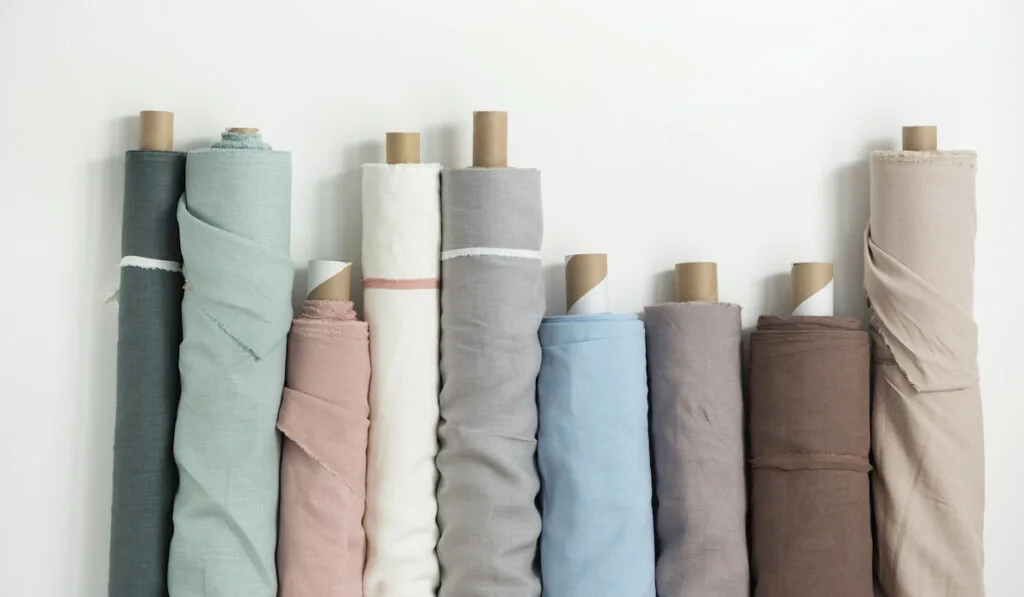 This type produces subtle colors that can give little or no cause to worry when combining with other fabrics.
Summarily, choose the correct type of linen fabric for whatever project you wish to embark upon.
With a good fabric, you have secured the first step in achieving a stress-free sewing process.
2. Pre-Washing and Ironing
Washing fabrics before sewing may not be necessary for other kinds of fabrics.
However, for ease of sewing and to achieve the best outcome, it is of utmost importance to wash a linen fabric before sewing.
This is because linen fabrics shrink and fray a lot. Thus, pre-washing and ironing will straighten out the edges and achieve a straighter and smoother fabric.
It is also recommended that you iron the fabric when it is still damp and keep a pressing iron close while sewing.
This would help ensure that the edges of the outfit are sewn before the fabric frays.
However, be careful not to over-iron your fabric in the course of getting your perfect seams.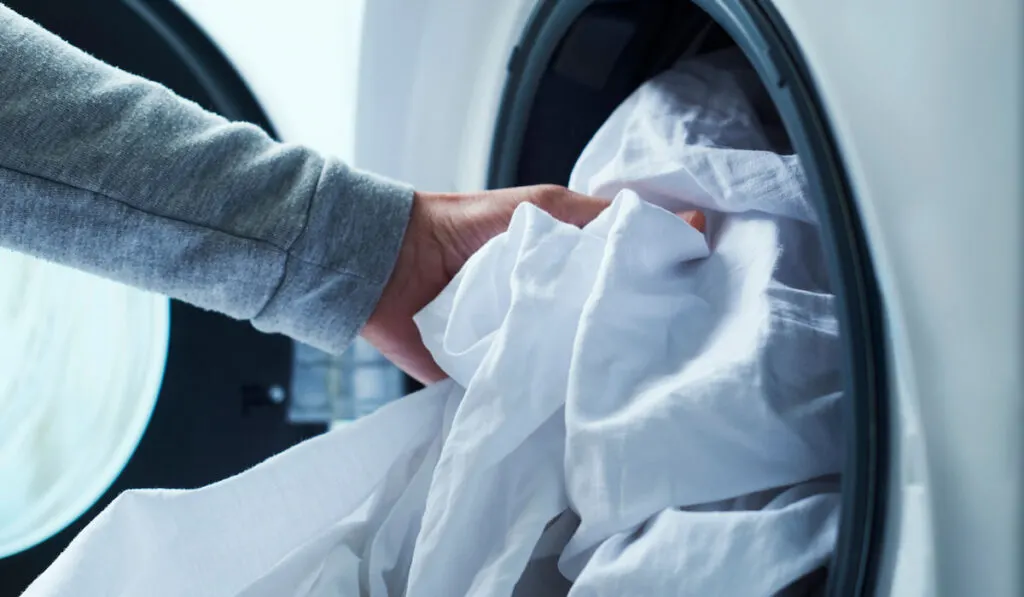 This could lead to the loss of the fabric's natural look, creating a too shiny and bright effect.
If you are okay with the shiny look, then you may go ahead with it.
3. Marking and Cutting
While there are different linen textures, thin liners may be one of the easiest to deal with.
The process of cutting thin linens is quite effortless when you use the right cutter.
On the flip side, marking linen with pencils for cutting and using tracing paper for darts and pleats may not be as easy as it seems as the marks may not be visible.
Thus, you should explore other marking tools that provide more visibility.
You may use pins for marking lines, darts, and pleats on the fabric. However, you should be careful with this as it can easily go wrong on a fabric.
Silk organza can be useful as an underliner when making outfits from linen.
4. Stitch Length and Seam Allowance
A short stitch length will, in many ways, help to prevent puckering when sewing with linen.
You should test your stitch length on scraps before working on the actual outfit. Of course, doing this will ensure you make fewer errors.
In general, you may set the machine stitch length at 2.5 to 3 mm for linen fabrics.
It is equally important to be as generous as possible with your seam allowance.
Sewing linen will be a challenge if the seam allowance is smaller than it should be. A seam allowance of half an inch can help ensure ease in your sewing.
What Thread Do You Use for Linen?
The kind of thread you use in sewing is vital.
Linen typically accommodates any thread. So you can easily use a regular sewing thread for linen.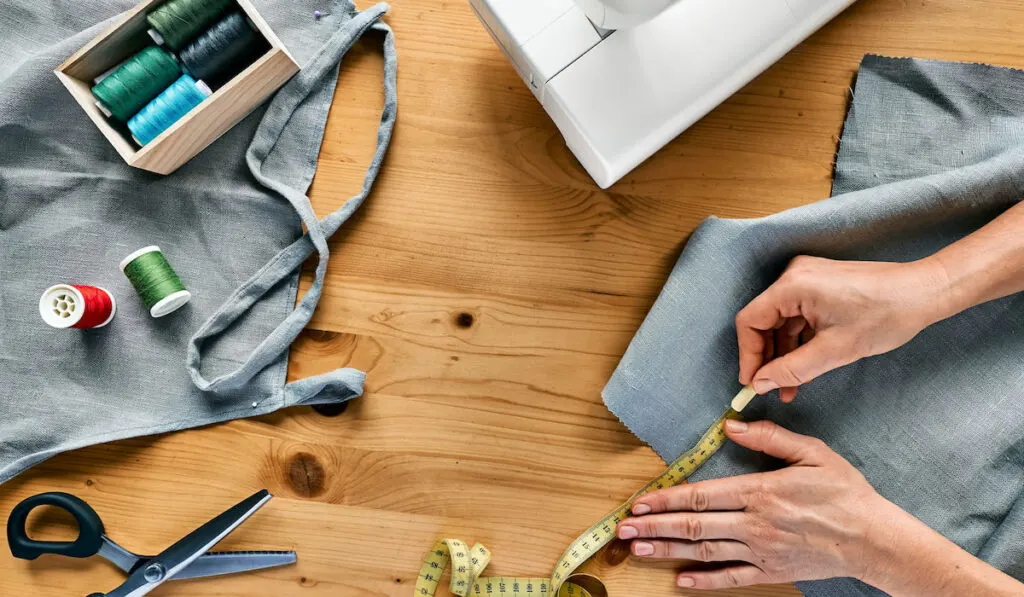 To be more specific, cotton thread, a universal thread for all purposes, or cotton-coated polyester thread, can be used to sew any linen fabric.
The most important thing is to select a thread with a matching color with the fabric.
When it comes to needles, universal needles will perform an amazing job in sewing linen.
How to Finish Linen Seams
An important part of sewing is finishing the seams. The seam finishing gives a professional look to all outfits.
You could say seam finishing is the art of perfecting the already sewn cloth.
Several kinds of seams can be used to finish a linen fabric, including:
Clean Finish Method
Though more strenuous than some others, this method is worth using for finishing the seams of linen fabrics.
You'll find that it efficiently keeps the seams from unraveling.
To achieve this, run a straight stitch on the edge you wish to finish. After doing that, turn the sewn edge inwards and run another straight stitch through both layers.
This method of finishing is easy and produces a neat finishing.
Zig-Zag Stitch
This can also be used to finish a linen fabric. It is very suitable for finishing the seams in the arm and the armholes of the fabric.
The zig-zag method is equally highly recommended as it produces a neat finishing.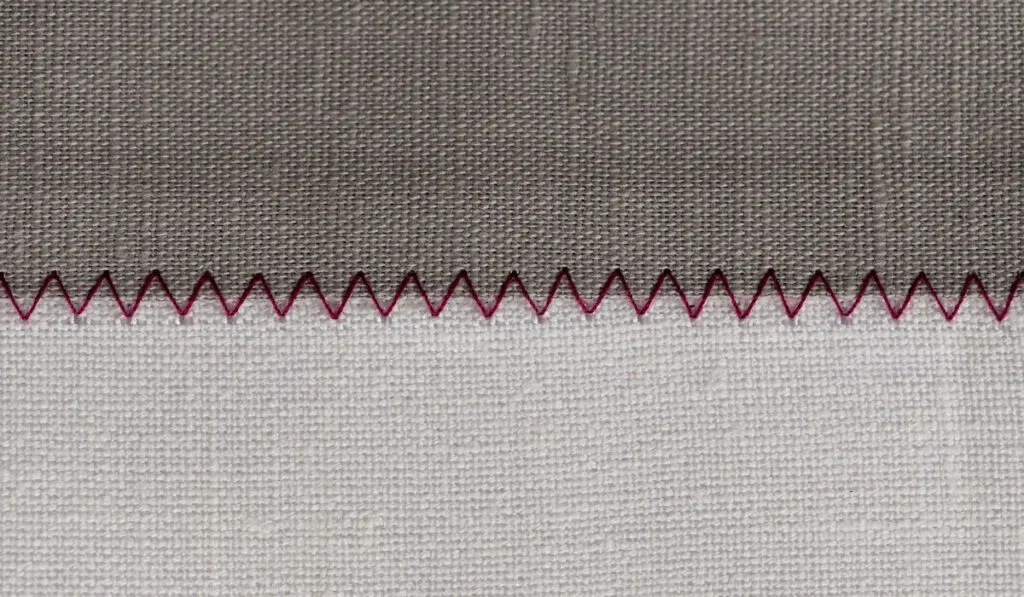 3-Thread Balanced Serger Stitch
This method of seam finishing is also applicable to linens.
You should know that you can use more than one method in a single fabric as long as the method suits the intended purpose.
Should You Pre-Wash Linen Before Sewing?
As mentioned above, washing fabrics before sewing may not be necessary for other kinds of fabrics.
However, for ease of sewing and to achieve the best outcome, it is essential to wash linen before sewing.
This is because linen fabrics shrink and fray a lot. Thus, pre-washing will help to achieve a straighter and smoother fabric.
Without washing, the fabric's shrinkage will affect the sewing, the design, and the final output.
You should wash the linen at the same temperature as you would after sewing.
Thus, if the cloth will be washed in cold or room temperature water, then the pre-washing should be done in that kind of water.
The use of soap or detergent in washing the linen fabric is not necessary.
Also, it is highly recommended to press-dry the fabric rather than lay it out.
13 Sewing Projects That Look Great in Linen
Several projects can be embarked upon with linen fabric due to its ability to produce beautiful outfits.
Some of these projects include:
Summer dresses and tops
Children's clothes
Summer pants and shirts
Summer suits or jackets
Table cloths
Napkins
Placemats
Drapes
Pillows
Slipcovers
Stylish shower curtains
Stylish guest towels
Historical enactment garments
Resources