*This post may have affiliate links, which means I may receive commissions if you choose to purchase through links I provide (at no extra cost to you). As an Amazon Associate I earn from qualifying purchases. Please read my disclaimer for additional details..
Thimbles come in very handy when you're sewing (pun intended). As you push or pull your needle through the fabric while you sew with your hands, you are at risk of getting pricked. 
There's no fun in getting pricked, it goes without saying that it would be painful, and you could get an infection. But while wearing a thimble, any of these is unlikely to happen.
It's one thing to get a thimble; it's another thing to get a thimble of the right size. If you get a thimble that's too small for your finger, you will not be able to wear it. In a situation where the thimble is too big, it would not stay in place while you use it, and it may slide right off your finger.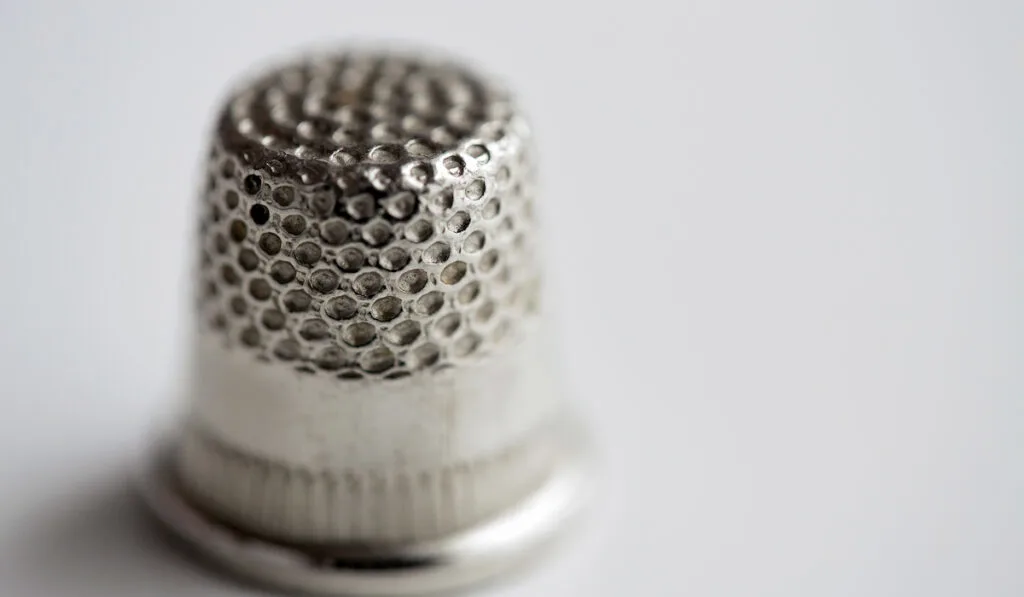 The thimble is pretty much useless if you cannot wear it or if it slides off your finger. So, we came up with a stepwise guide that can help you choose the right-sized thimble.
How to Size Your Finger
The first step to choosing the right thimble for you is to measure your finger for its size. You don't have to measure all your fingers, just the ones you work the needle with. Before sizing your finger, you have to consider if you're getting a short thimble or a long thimble.
For short thimbles, you have to measure the base of your fingernail to get the right size. For longer ones, measure the point midway between the base of your fingernails and your first knuckle.
There are some options for measuring this size, and some of them include the following:
Get a Thimble Gauge
A thimble gauge comes with multiple holes of different sizes. Each hole is labeled according to its size. Using the thimble gauge is quite straightforward.
You stick your finger in the holes until you get the one that matches it the most. Then you read the number written on the gauge for that hole to get your thimble size.
For long thimbles, stick your finger in until the gauge reaches the midpoint between the base of your nail and your first knuckle. For short thimbles, let the gauge reach the base of your nail.
Use a Ring Sizer
Another option you have is to go to a jeweler. When you get there, ask that they measure your finger with their ring sizer. You can also get a plastic ring sizer and measure the finger yourself.
Alternatively, if you wear a ring on any of your thimble fingers, you could use the size of that ring without having to measure it with a ring sizer.
Use a Thing Strip of Paper
This is quite easy, and you should be able to do this at home. Circle a thin strip of paper round your finger, cut out the circle, then measure its length with a ruler. The length is your thimble size.
Thimble Sizing Chart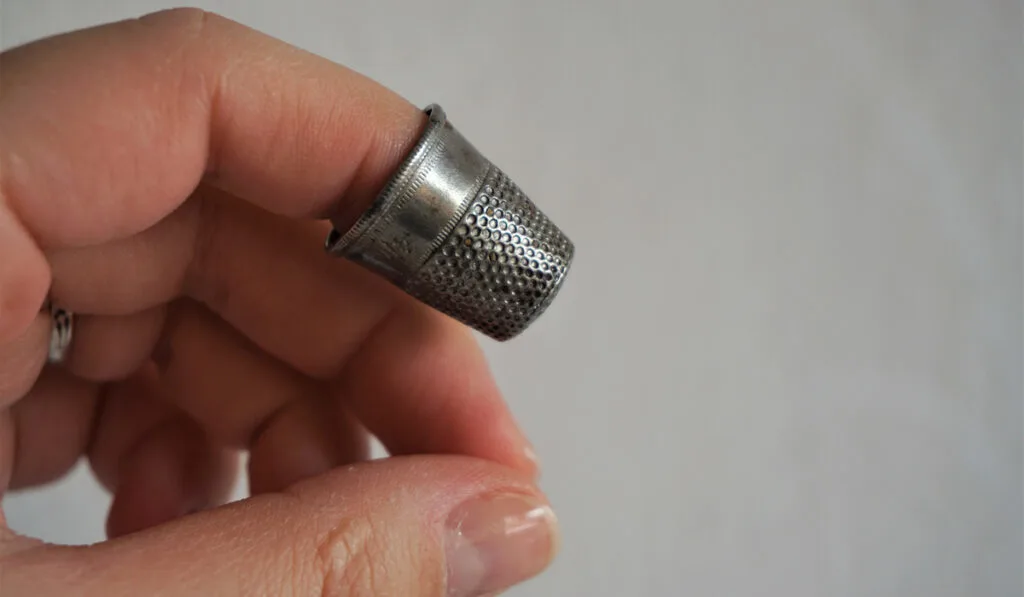 After getting the size of your finger, you can now get your thimble size. All you need is a thimble chart. The thimble chart shows the size of your finger and the corresponding thimble size.
In case you're wondering where to get a thimble chart, we've got you covered.
| | |
| --- | --- |
| Finger Circumference/Size (mm) | Thimble Size |
| 40.2 | 1.5 |
| 41 | 1.75 |
| 41.5 | 2 |
| 42.8 | 2.5 |
| 44 | 3 |
| 45.4 | 3.5 |
| 46.7 | 4 |
| 48 | 4.5 |
| 49.3 | 5 |
| 50.2 | 5.5 |
| 51.5 | 6 |
| 52.8 | 6.5 |
| 54.5 | 7 |
| 55.3 | 7.5 |
| 57.2 | 8 |
| 58.2 | 8.5 |
| 59.3 | 9 |
| 61 | 9.5 |
| 62.3 | 10 |
| 63.5 | 10.5 |
| 65 | 11 |
| 66.2 | 11.5 |
| 67.5 | 12 |
| 68.8 | 12.5 |
| 70.2 | 13 |
| 71 | 13.5 |
Your finger's size may not be exactly the same as what is in the chart. In such cases, work with the value closest to your actual value.
Apart from measuring the circumference/size of your finger, the shape of your finger and the thimble also matters. The thimble might be your size, but the shape can be incompatible.
There can also be a slight variation in the size of your finger throughout the day. If this variation is significant for you, you can work around it.
Get a thimble that's slightly smaller than your actual size and another that is slightly bigger. So, even when the size varies throughout the day, you have something you can use.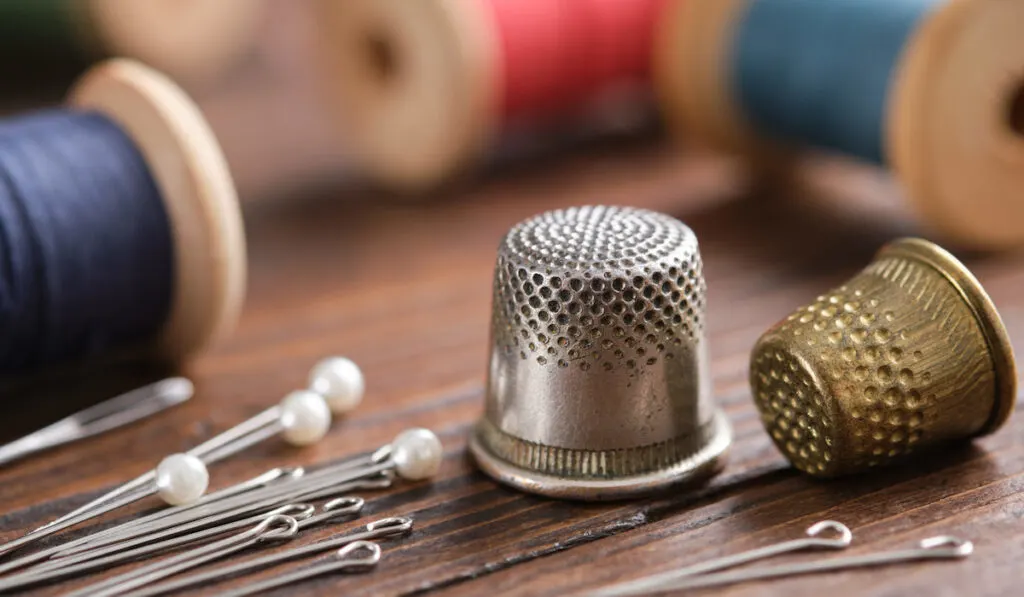 Types of Thimbles
Thimbles are made from different materials, each with the ability to serve as a barrier between the needle and your finger. Besides protecting your finger, these materials have individual advantages. So let's see the types of thimbles we have, shall we?
Rubber Thimbles
Rubber thimbles (also called thimblettes) are very comfortable and flexible, so they can be worn over a long period. They were made primarily for handling paper. So, you'll find that people working with banknotes, tickets, and documents wear them. However, they have been adapted for sewing too, and they work quite well.
Metal Thimbles
Metal thimbles are one of the earliest types of thimbles. They date back as far as the 10th century. Although thimbles were also used for sewing back then, they also found purpose as precious gift items.
Back then, most metal thimbles were made from brass or silver. But these days, we have thimbles made from other metals like aluminum and steel.
A drawback of metal thimbles is their rigidity. This can make them uncomfortable and painful to use. On the flip side, their rigidity makes them impenetrable to needles. So, you are less likely to be pricked.
Besides metal and rubber thimbles, we have the following
Plastic Thimble
Leather Thimble
Ceramic Thimble
Bone Thimble
Wood Thimble
Plastic and leather thimbles offer flexibility and comfort. While ceramic and wood thimbles offer rigidity. So, you may consider these when choosing your thimble.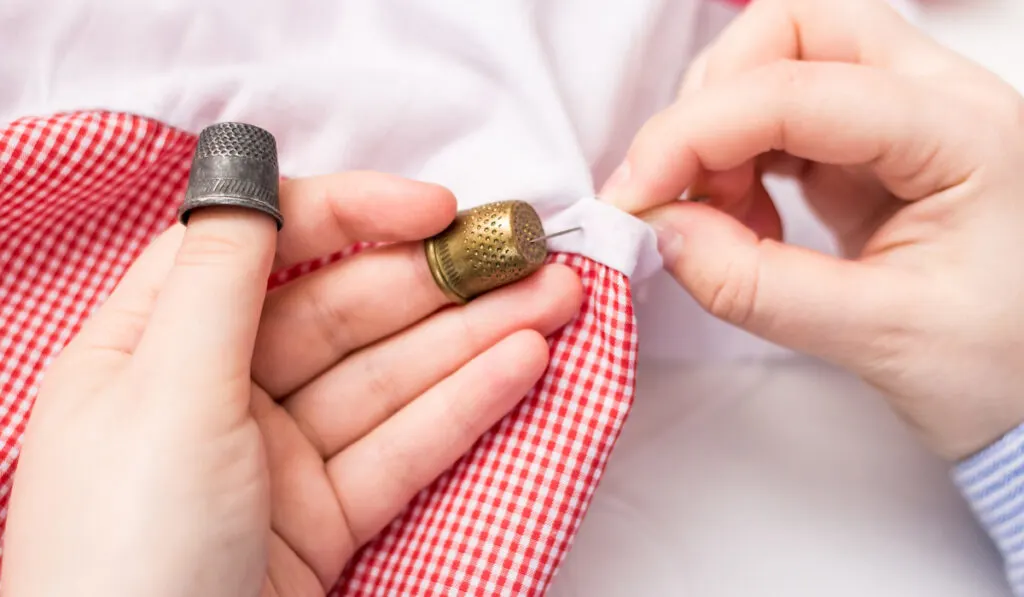 How to Use a Thimble
To use a thimble, do the following:
Wear the thimble on your thimble finger(s).
Hold your sewing needle between your index finger and thumb.
Insert the needle into the fabric or leather with the index finger and thumb.
Then push with the thimble.
Repeat 3 and 4 until you're done sewing.
Which Finger (s) Should You Put Your Thimble On
Thimbles can provide protection while you pull or push a needle. Thimbles that provide protection while you push are usually worn on the middle finger. But if you have a natural propensity to push with your index finger, then you may wear it on the index instead.
Thimbles that provide grip/pull protection are worn on the index finger and the thumb.
Your Guide to Finding the Best Thimble
Here, we've created a list of some of the best thimbles you can find in the market.
Best Rubber Thimbles
Swingline Rubber Finger Tips
Sale
This comes as a pair of thimbles available in 5 different sizes. It is quite durable and will retain its shape for a long time. If you need something to grip and pull your needle while you sew, this should come good. The rough surface ensures a better grip, and you can wear it for long without feeling uncomfortable.
Griply Rubber Finger Tips
Griply Rubber Finger Tips | Hand Grips | Rubber Tip Finger Protector
✔️LATEX FREE! Rings can be gently stretched for a more loose fit. Each box contains ten (10) strong, durable and reusable rubber finger pads.
✔️Designed for comfort and durability, these finger rubber tips provide a protective barrier between your fingers and the items you're holding, preventing paper cuts, making filing and sorting faster and easier, and so much more.
✔️Acting like second-skin, the fingertip ring is made from a proprietary blend of heavy duty, comfortable and silicone-free rubber materials.
Each pack of this product contains 10 pieces of thimbles. The thimbles are open-top, so you wouldn't have to worry about your fingernail preventing you from wearing them. Also, since they are open-top, there'll be no sweating, meaning you can wear it for longer.
Best Plastic Thimbles
Dritz 204-M Soft Comfort Thimble
One great feature of this plastic thimble is the openings. The openings allow breathability, so you won't get uncomfortable wearing it. The sides are soft and snug.
On the other hand, the tip is tough. It contains dimples that hold needles in place, so they don't slip or slide.
YICBOR Household Sewing DIY Tools Thimble
This product contains a small and a large thimble. So you can wear one on your finger and another on your thumb. For each thimble, the tips are dimpled, so expect them to hold your needle well enough.
Best Metal Thimbles
MagicW Vintage Sewing Thimble Finger
This metal thimble is not only great for sewing, but it also works well when you're repairing leather and canvas. Each pack contains 10 pieces, so do well to confirm that the size fits.
D&D Sewing Thimble Finger Protector
D&D Sewing Thimble Finger Protector
Flexible fingertip thimble great for hand sewing, needlework and needlepoint
This vintage metal open-sided copper thimble perfect for long fingernails
Adjustable thimble for easy fit, Dimpled pattern keeps needle from slipping
Material: Metal Alloy Brass, Package of 1 pc ( M)
Beginner Starter Tool, Useful sewing notion and sew gift
You can adjust this to suit the size of your finger. It has openings on the sides and at the top. This makes it very breathable and comfortable to wear. The surface is dimpled, so you don't have to worry about your needle slipping while you work.
CLOVER Metal Open-Sided Thimble
Sale
This also works well if you have long fingernails. It has openings on the sides and at the top. These openings make it breathable. Also, if it doesn't fit, you can adjust it to suit your finger.
Best Leather Thimbles
Clover Leather Thimble 612 set of 2
Each pack contains 2 pieces of this ring-type thimble. It is easy to wear, and since it is portable, it is comfortable too.
CLOVER 614C Leather Coin Thimble
Sale
Clover 614C Leather Coin Thimble
This is a medium coin thimble made of soft leather with a special dimpled metal coin disc for fingertip protection
Main body: Leather/Metal: Brass
Leather thimble measures 1.6 high by 1.4 wide
With this, you have a combination of brass and leather. The tip is made from dimpled brass to give extra protection. The leather body offers flexibility and comfort.
Best Thimbles for Children
SINGER 07330 Comfort Fit Gel Thimble
SINGER 07330 Comfort Fit Gel Thimble
Adjustable gel finger thimble with open design
Flexible and strong gel finger thimble for use during sewing, quilting and crafting projects
Clasps allow for adjustable sizing and perfect fit
Open design prevents sweating and allows for space for fingernails
Gel provides cushion for finger tip
The outer part is made from metal, while the inner part contains a gel. The gel gives a cushion effect, so the kids get extra comfort while they use it. The thimble is also adjustable and can fit some of the smallest fingers.
Woolbuddy Needle Felting Starter Kit
Sale
Woolbuddy Needle Felting Kit – Starter, Felting Kit for Beginners Adult and Craft Kit
Complete wool felting kit: White needle felting wool Core (30 grams), 16 dyed colored wool for options (10 grams each), 3 different size thimbles, 6 need felting needles (size 36), black felting foam and instructions for each characters.
Craft with Peace of Mind: Our soft needle felting wool is made from real sheep and is completely natural, free from synthetic materials that could harm the environment. Our roving wool for felting is clean, and odorless, providing a pleasant crafting experience.
Easy to follow Adult craft kit and felting kit for kids: Our comprehensive instructions made by Woolbuddy Team, featuring colored illustrations and written directions, make learning the craft of needle felting a breeze, even for beginners.
This kit comes with 3 thimbles and much more. In the pack, you'll find 16 hypoallergenic colored pieces of wool, 6 felting noodles, and a stepwise instruction book. It is basically a sewing starter kit for kids.
Choosing the right thimble for your finger basically involves measuring your finger then selecting the thimble with a size and shape that fits. Of course, you may want to consider the type of thimble you get – each one offers a different experience.
Resources