*This post may have affiliate links, which means I may receive commissions if you choose to purchase through links I provide (at no extra cost to you). As an Amazon Associate I earn from qualifying purchases. Please read my disclaimer for additional details..
Just like us humans, machines also need proper care and attention to run smoothly and function properly. This is why it is important to check sewing machines for maintenance from time to time.
You might think that because your sewing machine is working perfectly fine then it doesn't need to be serviced. Even if your sewing machine is functioning well, it is important to tune it up annually for it to remain in a fine condition.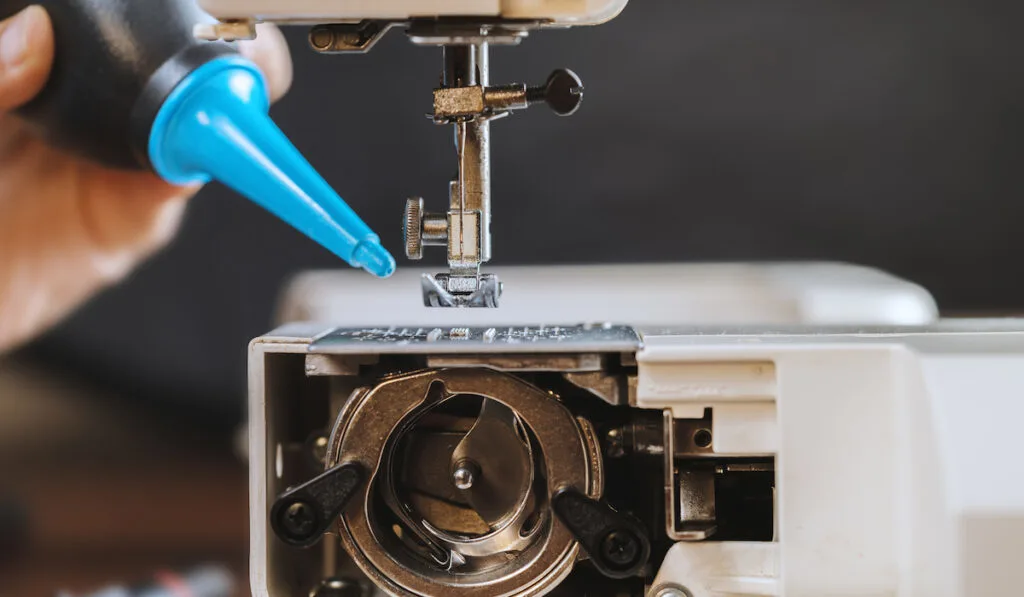 The important decision to make here is to decide whether you should tune up the machine yourself or hire a professional.
Should You Service Your Sewing Machine Yourself or Hire a Professional?
No matter which make or model you have, you should have your sewing machine serviced once a year by a professional, especially if you use your machine regularly. The technician will thoroughly examine it and will be able to detect any faults long before they become obvious. 
Regular maintenance will prevent the sewing machine from causing any problems in the future and will also save you money that would go toward replacing damaged parts.
How often should you get your machine serviced depends on how often you use it. If you are someone who uses their sewing machine frequently, then there are chances of lint building up and lubricant wearing off. In that case, it is a good idea to get the service done once a year.
If you rarely use your sewing machine, there is a risk of lubricants congealing from disuse. It is a good idea to have the machine serviced before the next time you plan to use it.
If your sewing machine suddenly makes sounds or feels like it is overheating, then surely it's time to take it to a professional.
Having a technician service your sewing machine yearly is best for preventative maintenance. If you are not able to take it to a professional, you can service a sewing machine yourself.
This can include deep cleaning, lubricating, tightening, and replacing parts. Always be sure to consult your manual before working on your sewing machine.
Where to Get Your Sewing Machine Serviced
A professional technician might be the best choice for sewing machine maintenance. But where can you take it and how much will it cost?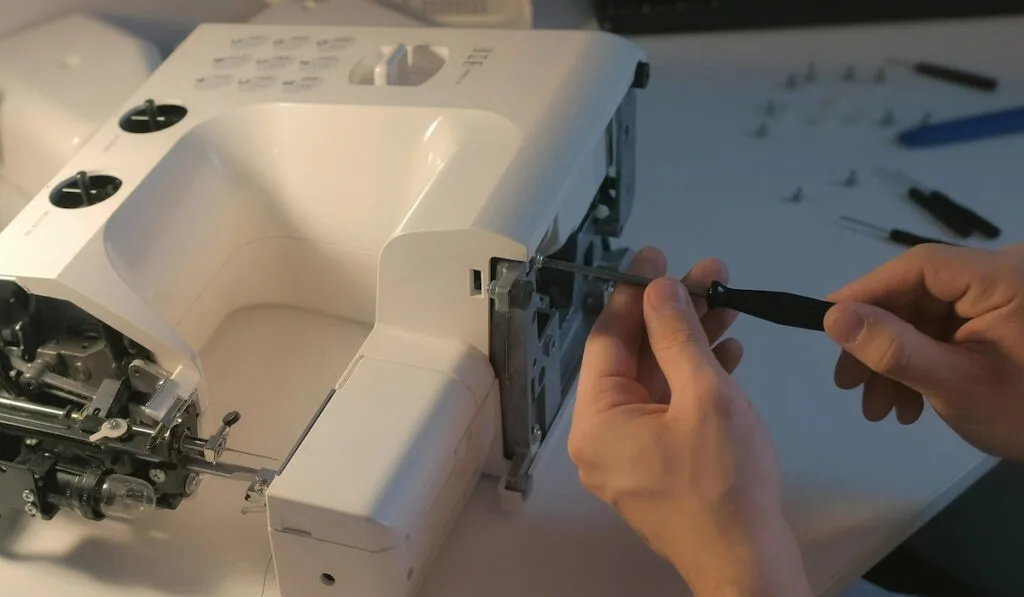 Most machine manufacturers have trained and highly qualified technicians who can tune up the machine for you. Search for local vacuum and sewing repair shops near you and call ahead to make sure their technicians can work on your specific machine brand.
You can also check manufacture websites as some will list certified professionals or vendors that can work on your machine.
The cost of maintenance and repairs varies based on the type of machine. For cheaper or introductory sewing machines, a simple tune-up can cost, on average, $90.
If you have a high-end or industrial sewing machine, maintenance can cost as much as $300 and may not include repair parts.
Preventive Sewing Machine Maintenance
Spending money on sewing machine maintenance may not be easy or affordable for everyone. There are ways to reduce the impact of use on your machine, limit potential damage, and keep the machine up and running.
Cover It
After you use your sewing machine, store it in a dry place and cover it properly. You can use a plastic sheet, cloth, or case to to prevent dust, grit, or even animal hair from finding their way in and causing any problems.
Change Needles Often
Needle are an important accessory for a machine and do a lot of work, so they can become dull or bent over time.
Worn or damaged needles can affect the final results in your projects with broken, loose, or skipped stitches. They can even damage fabric and your machine.
Make sure you use the right needle for the fabric you are sewing and change the needle after you complete your sewing project. You will see a visible improvement in the results the next time you start a sewing project.
Oil Regularly
A sewing machine is made of many moving parts, and anything that moves needs lubricants to do so efficiently.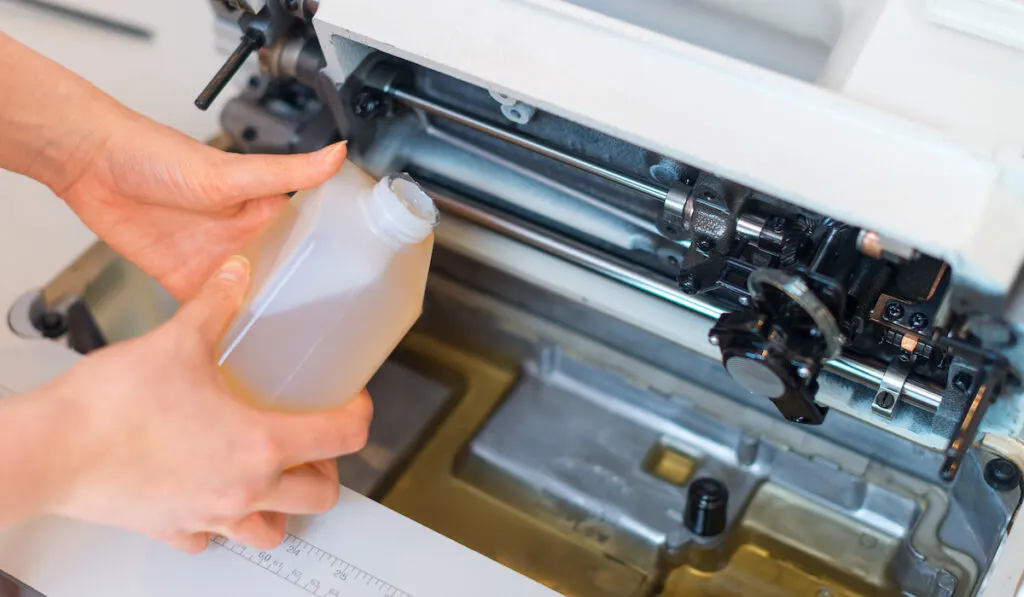 Make sure the bobbin case is always lubricated with machine oil. After oiling, wipe the machine to get remove any residual oil.
For daily machine use, lubricate once a week.
For weekly machine use, lubricate once a month.
For monthly machine use, lubricate quarterly (every three months).
Always be sure to check the instructions for your sewing machine before lubricating. Older machines are easier to self service since they have simpler parts.
However, most modern sewing machines have delicate circuits and wires, so it is better to leave the matters in the hands of a technician.
Avoid Lint Build Up
Lint build up can jam a sewing machine and cause the upper thread to break. To avoid this, you should wind the bobbin properly and make sure you are using the right bobbin for your machine.
You can keep up with lint cleaning up by wiping out the lint with a cosmetic brush or a soft cloth after every sewing project.
Final Thoughts
Taking your sewing machine to a professional technician can ensure a long-lasting machine. You can perform some maintenance and preventative care yourself to cut down on trips to the technician and the costs that come with it.
Set a cleaning routine and follow the instructions that come with your sewing machine to keep your sewing machine performing properly.
Resources