*This post may have affiliate links, which means I may receive commissions if you choose to purchase through links I provide (at no extra cost to you). As an Amazon Associate I earn from qualifying purchases. Please read my disclaimer for additional details..
As a beginner, you will come across various types of sewing machines. You may be tempted to buy more than one, but you may later learn that you only need a standard sewing machine. x
How many sewing machines do you need?
There is no fixed standard for the number of sewing machines one needs. But one standard sewing machine might be all a person needs as a beginner. As one's sewing advances, the need for extra sewing machines may be unavoidable. Ultimately, the number of sewing machines one ends up with will depend on the volume and type of sewing one does. It will also depend on experience.
In this piece, we will shed more light on the conditions that may determine the number of machines you need.
We will also suggest some of the best sewing machines for beginners.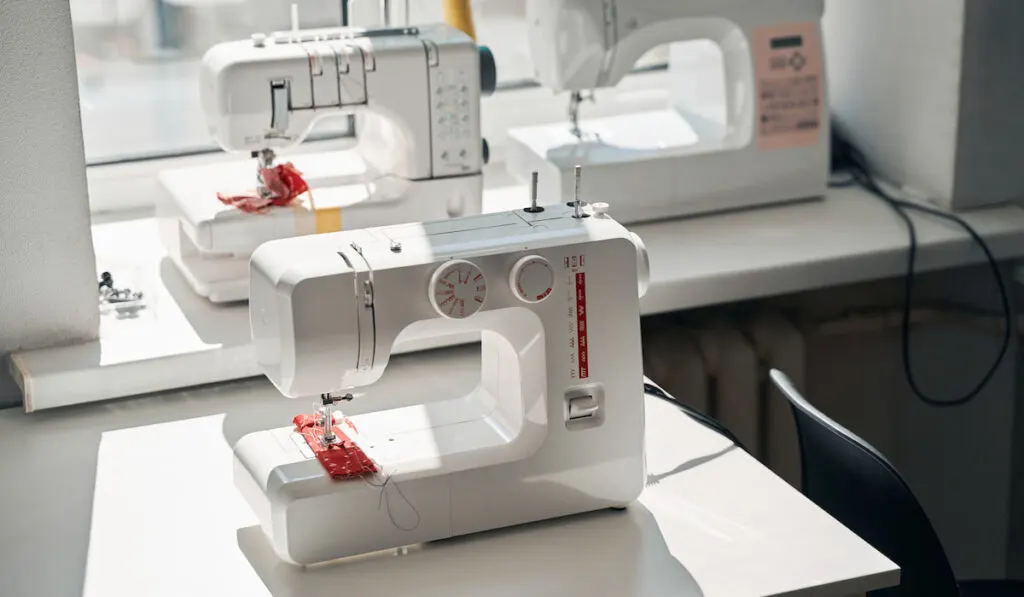 How Many Sewing Machines Do You Need?
At the start of your sewing journey, one machine that can manage basic stitches should be adequate. But as you go further, it may not be enough, depending on the types of projects you work on.
How can you decide what, or how many, to purchase? Consider these factors:
Experience Level
As someone who is just learning how to work with basic stitches, you may not need more than one machine.
A domestic machine will suffice for you to practice the basics of sewing. You could get an electronic sewing machine or a mechanical type.
As you gain more experience and learn about special types of stitches, you may have to get an extra machine.
For example, a domestic sewing machine might not be able to produce these special stitches.
Project Types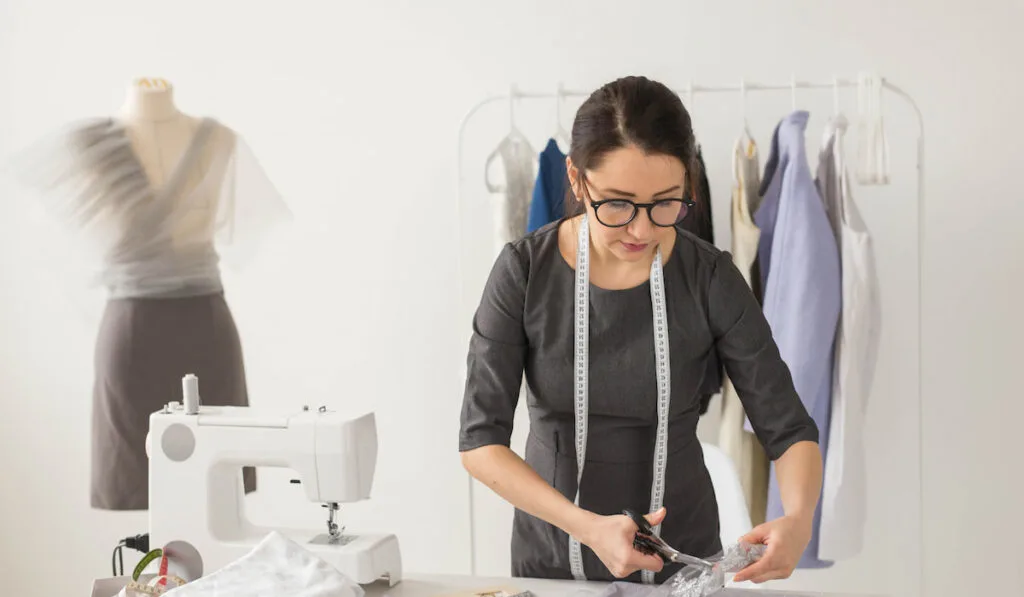 Besides your level of experience, the type of sewing and the projects for it will also determine how many machines you need.
If you just want to sew as a hobby, one sewing machine with multiple features would be enough.
You will also likely only be sewing once in a while, so you may not have to worry about your sewing machine becoming faulty from overuse.
If you intend to sew professionally, you will likely need more than one sewing machine.
While you might be able to sew successfully with only a domestic or industrial sewing machine, you can achieve better results with specialized machines.
For example:
A cover stitch machine is essential to ensure that the sewn fabric does not unwind at the edges.
It is possible to sew buttons with a needle and thread. But using a button sewing machine is faster and neater.
If you want to quilt or embroider, you can purchase machines designed with those functions in mind for more precise project work.
Professionals also use a sewing machine more often, which means the machine can become faulty from being overused. Having a backup on hand can be a great idea.
Sewing Machine Types
There are various types of sewing machines, and each one is best suited for certain functions. Below, we talk about some of the types of sewing machines and what they do.
1. Domestic Sewing Machine
This is the most common sewing machine when sewing as a hobby. It is easy to use and can be used for sewing home furnishing accessories and clothes.
2. Industrial Sewing Machine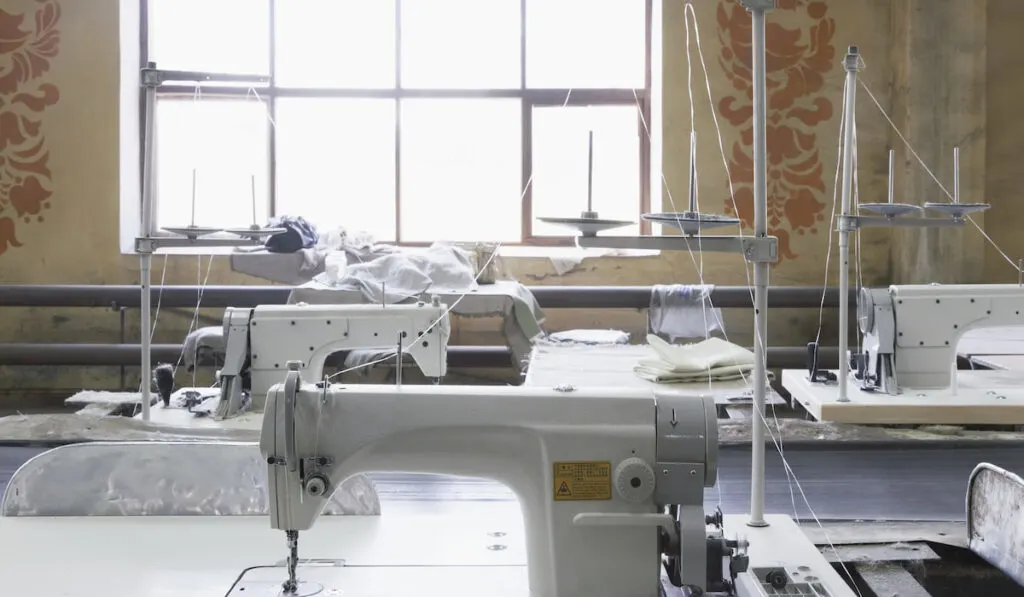 Industrial sewing machines operate at a higher speed compared to domestic machines.
With this machine, you can sew for longer periods, and your finished projects look straight and balanced.
3. Hand Operated Sewing Machine
This is an old model sewing machine that was once very popular, and at a time, it was the only option.
4. Treadle Sewing Machine
This machine is operated with a base stand that is treadled to move the belt on the wheel.
5. Computerized Sewing Machine
This is a sewing machine that allows you to set up programs and do embroidery with your preferred settings.
6. Serger Machine
This machine has several purposes including sewing hems, finishing fabrics, and making durable hems.
7. Mini Sewing Machines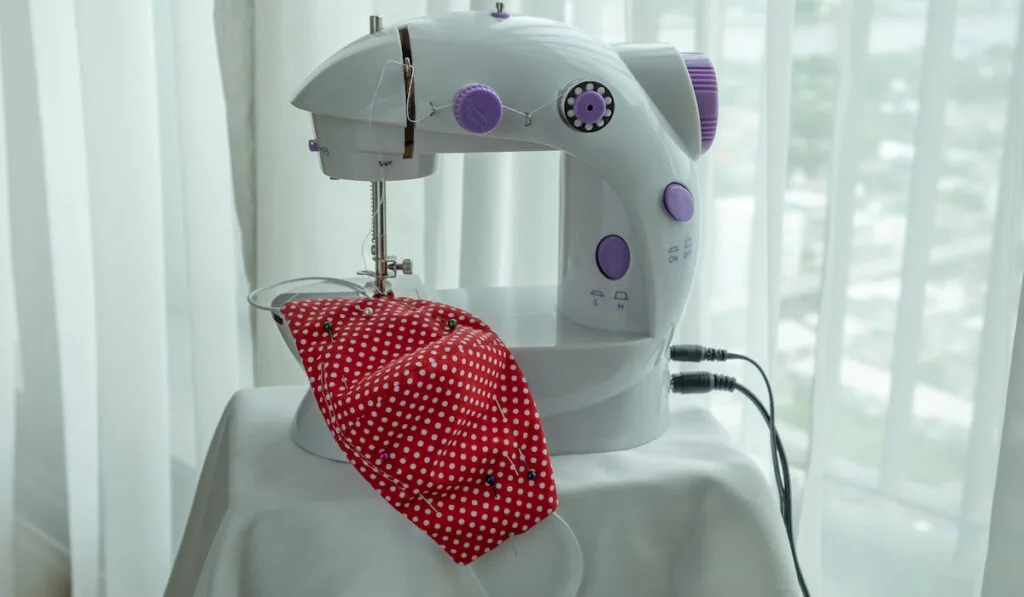 This is a small, portable sewing machine used to make adjustments, repairs, and sew straight lines.
8. Chain Stitch Machine
This machine makes a chain stitch on your fabric with a single thread. It is used to sew zigzag stitches and straight stitched seams.
9. Safety Stitch Machine
This machine is a combination of a 3-thread overlock stitch and a 2-thread chain stitch. It can be used to seam stitches and neaten edges at the same time.
10. Button Sewing Machine
This machine allows you to sew buttons including shank buttons and flat buttons with speed and accuracy.
11. Buttonhole Machine
Buttonhole machines create buttonholes in fabric projects neatly, fast, and without stress.
12. Flat Seam Machine
This machine is used for sewing flat seams. It is also used for binding cut edges on knitted fabrics. Flat seam machines may either come with a cylindrical bed or a flatbed.
13. Bar Tack Sewing Machine
Bar tack sewing machines produce stitches that strengthen certain parts of a garment such as belt loops, zipper flap, and pockets.
14. Blind Stitch Machine
This is an industrial machine used for blind stitch hemming on shorts, skirts, and pants efficiently. This machine is so named because it produces hemstitches that are not easily visible.
15. Cover Stitch Machine
A cover stitch machine is useful for hemming, topstitching, binding, and decorative stitches.
16. Embroidery-Only Machine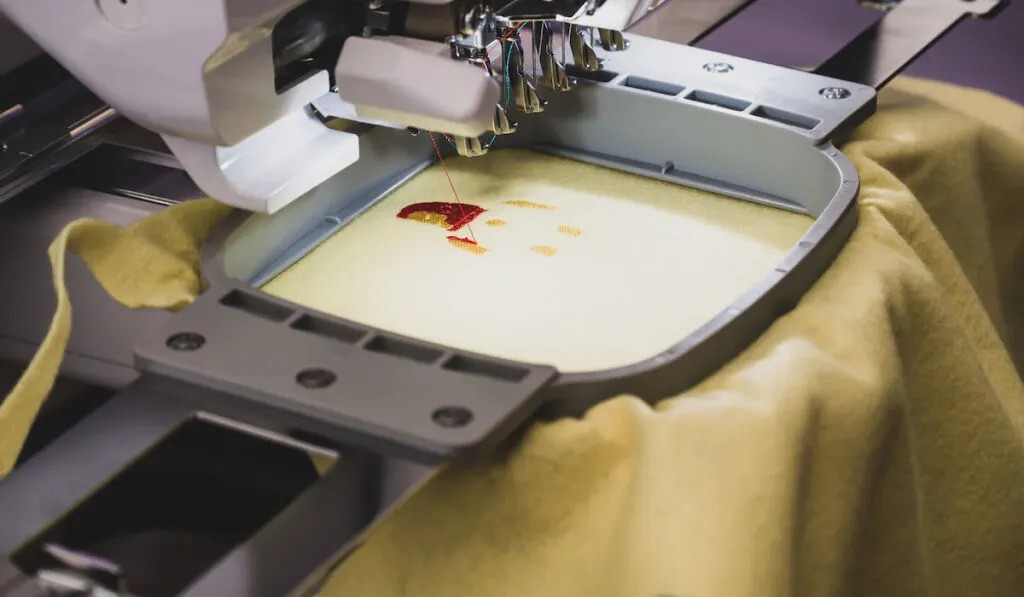 You will find that many machines support regular sewing and embroidery at the same time. You will also come across those that work only for embroidery.
Generally, there is no difference between these 2 groups beyond the absence of support for regular sewing.
17. Long-Arm Quilting Sewing Machine
You could choose to quilt with your hands, but you could do more in a shorter period with a quilting machine.
A long-arm quilting sewing machine offers you a working area that permits the creation of large quilt pieces.
Must-Have Features for Every Sewing Machine
Free Arm
To gain access to the free arm, you should be able to remove the accessory tray. This is done on almost every modern sewing machine.
If you see a machine where you can't do this to access the free arm, do not purchase it. Note that some old model machines still give you access to the free arm. 
Access to the free arm is required for the following reasons:
When hemming pants and sleeves, you should be able to access the free arm of your sewing machine. This is to avoid sewing the two fabric pieces together.
For narrow and round projects, you need to access the free arm to slip the tube on the arm.
Buttonhole Stitch
Most machines permit the creation of buttonholes. It can be really difficult to make buttonholes by hand.
While some machines require a single step, others need as many as four steps.
For a computerized model, this process is quite easy. There are already a variety of buttonhole stitches you can choose from.
Automatic Needle Threader
This is a feature you will find on any proper sewing machine from a big brand.
If you intend on buying a cheaper model or a used machine, ensure this feature is available before buying.
With this feature, finding the needle eye while threading your machine is no longer a problem.
All you do is slide the thread down the needle shaft, and the automatic threader does the rest.
Enough Space in the Work Area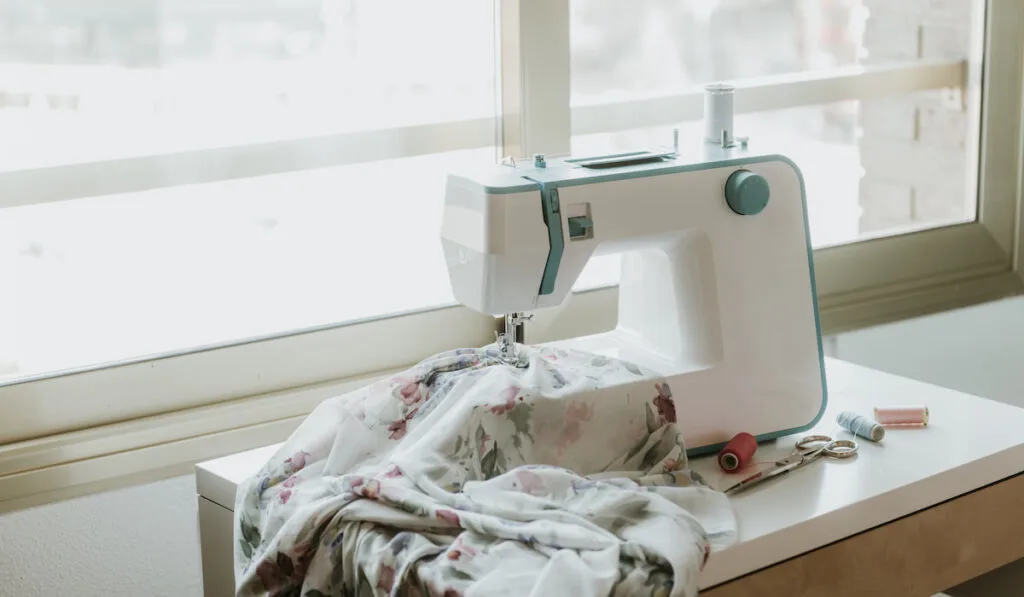 Some sewing machines are so small they are almost impossible to work with. Make sure the throat of your machine is not narrow.
On the right side of your needle, you will need room to place fabric as you pass your project through the machine. If the throat isn't wide enough, you might not be able to do this properly.
A narrow throat could cause you problems when taking projects that require long fabric pieces or embroidery. You need to be able to sew and move the fabric around with ease.
Make Sure It Is Still Being Produced
When considering a specific machine, make sure it is still in production or supported by the manufacturer.
You might experience where your machine breaks down or you need to purchase a new part as a replacement.
If your machine is no longer available, you may have to pay much more for the replacement parts or repairs.
The replacement parts may also be hard to find.
A repair shop may have to scour through various used machines sold as spare parts to get what your machine needs. Replacing one old part for another is just a temporary solution before the machine breaks down again.
Best Sewing Machines for Beginners
As a beginner, if you intend to get a sewing machine, look out for durability and ease of use. This will help you avoid frustrations early on in your sewing journey.
If a machine is not durable, it may become faulty frequently. Having frequent issues can be frustrating.
As a beginner, you will be looking to learn and improve over time.
An easy-to-use sewing machine will be easier to work with and focus on projects and skills, rather than machine mechanics.
Here is a list of sewing machines a beginner should take a closer look at:
How to Know When It Is Time to Add Another Machine
When you feel the need to take a step further and try your hands on advanced sewing projects, it might be time to get a new machine.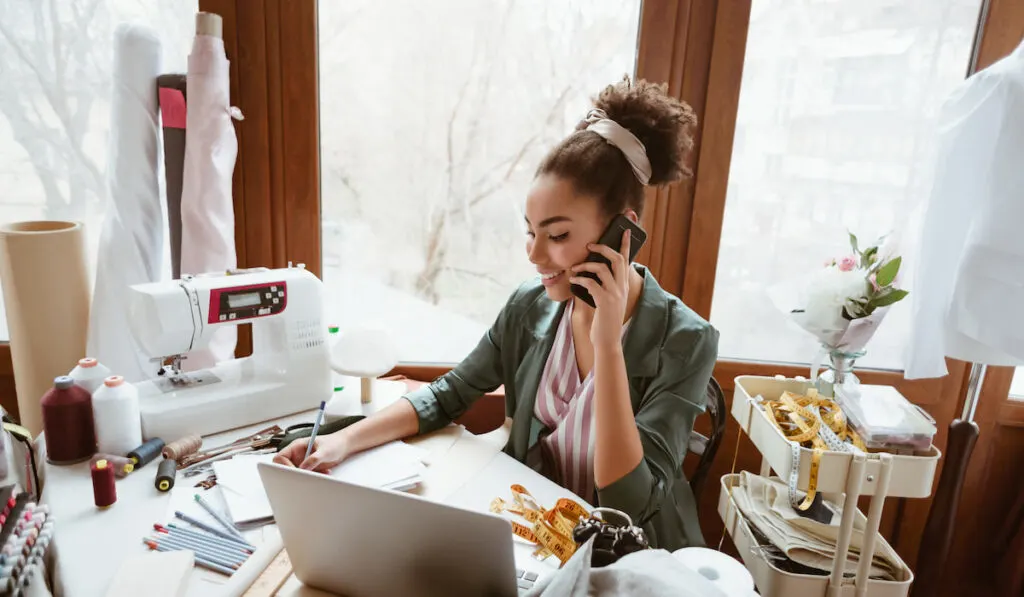 You should have mastered everything concerning basic sewing. You should also be comfortable working on regular sewing projects. 
Creative projects like quilting and embroidery will likely require another machine.
When new or specifically complex projects start coming to you, you can look for additional machines that are designed for them.
But before you decide to take that step forward, explore whether your existing machine can help you get the job done.
Conclusion
The number of sewing machines one needs is personal; it all depends on your situation. It depends on your experience, the type of sewing you do, and the volume of sewing.
It may also be determined by the type of machine available in the market. If you cannot get a product with multiple features, you may have to buy multiple products with the required functions.
Resources