*This post may have affiliate links, which means I may receive commissions if you choose to purchase through links I provide (at no extra cost to you). As an Amazon Associate I earn from qualifying purchases. Please read my disclaimer for additional details..
When it comes to fabric projects, fabric glue has its usefulness. It can quickly and easily bond fabric together. This is great in a pinch but what if you want a more permanent solution later. Can you sew over fabric glue?
You can sew over fabric glue but you should always wait until the fabric glue is dry. When possible though, you should just pin the fabric and sew instead of gluing first.
Why you might need to sew over fabric glue
In the process of using fabric glues for binding fabric, it is important to note that different fabric combinations have and need a different type of fabric glues during the process of binding.
One might need to sew over fabric glue in order to make the binding of the fabrics stronger as the glue help best to join fibers that are thick. Leather is one example where you might use glue first, to secure the layers, and then stitch them together.
In this case, the glue acts much like pins would for lighter fabric. It holds the pieces together so that you can add stitching with less worry that the pieces will shift.
Can You Use Fabric Glue Instead of Sewing?
Apart from sewing, there are other ways in which one can use to attach fabric, which is, using fabric glue. There are many products available on the market and, in addition to liquid glue, one can also use fusible bonding tape such as Dritz Stitch Witchery to attach the fabric.
Most fabric glue is clear when it has dried and is harmless to the fabric (though you should be careful with delicate fabrics like silk). Fabric glues are meant to be able to withstand things like washing, drying and dry cleaning.
Keep in mind, though, that a hot iron often works great to loosen glue, as such, it's best to use fabric glue on items that don't require regular ironing.
No Sew Items
Fabric glue is mostly used on things that are hard to sew or temporary items. Some common uses include making pillows, headbands, and scarfs that no sew.
In addition, permanent fabric glue can be used for patches, repairs, zippers, trims, and hems.
Decorations
Glue can also be used in a lot of decorations such as Christmas tree skirts, fabric woven wire baskets, and burlap table runners.
These are decorations that do not require to be washed often and they do have less wear and tear) and therefore hot glue is their option though not recommended for other fabrics.
Embellishments
Adding embellishments for example gemstones and sequins on a garment may work best when using fabric glue instead of sewing over them.
For the most part, fabric glue works best when used in small bits and in addition to some clothing for example in the addition of applique.
Projects with Kids
When making fabric projects and crafts with kids, fabric glue can make things easier than using a sewing machine. Kids of almost any age can typically be taught to safely use fabric glue.
While it may not be the cleanest project, the glue dries clear and they can have fun making memories learning to craft without getting frustrated by a needle and thread.
Emergencies
Fabric glue can be really useful in an emergency when you need fast repairs of a garment, such as a ripped skirt hem.
In this situation, you can use a spray fabric glue which will last for a few hours as it is just a temporary solution.
During washing, as this was not a permanent solution, the adhesive will be washed and will not stick. This will allow you to do a proper repair when you have time.
Unusual Projects or Uncommon Materials
Sometimes you aren't working with fabric. For example, you might be using plastics and vinyl. Sewing through these items is possible but you want to make sure you have the right machine, right needle and correct thread.
Instead, one can use fabric glue instead of sewing in order to avoid stitching through the thick and hard materials and also avoid dulling or breaking your good sewing machine needles.
Fabric Glue vs. Sewing
When looking at the comparisons between using fabric glue and sewing to bond the fabrics together, using fabric glue is usually more convenient, easier and faster and very safe.
Fabric glues can provide either a permanent or a temporary bond; it is just a matter of you choosing whether to use permanent glue or temporary glue. Finally, one is capable of bonding heavy garments like denims and leather as that can be hard to sew them.
Does Fabric Glue Hold up in the Wash?
A bigger percentage of fabric glues will definitely hold up in the wash although for a short period of time. It is recommended not to use fabric glue on fabrics that you desire to last long as once used, it weakens the glue when washed and therefore extra caution is needed when washing.
When using hot glue on washable clothes, despite it not being the best option for any cloth especially one that will later on need washing, it is advised not to use hot water during washing as the hot water could melt the glue locking it inside the fibers when it gets in the fabric and the only thing that can release it is heat.
What Type of Glue Can Be Used on Fabric?
There are different classifications of glues that can be used on different fabrics each depending on its class.
There are permanent and temporary fabric glues. The large majority are washable.
Liquid Stitch
When it comes to name brands, Liquid Stitch is one of the ones you'll probably hear about the most. It dries fast and clear so you can apply it with confidence and not worry about it interfering with the design, pattern, or colors of your fabric..
There are other examples of fabric glues that can be used on fabric and they include;
Bacon Fabri-Tac
This is permanent glue and is best for beginners as it is suitable for all surfaces without any problem except the fact that it is quite thick and has a strong scent.
Plait Delta Sobo Premium Craft and Fabric Glue
This is a type of craft fabric glue that is non-washable and it creates a bond that is permanent making it the best choice of the fabric glue to be used on heavy materials and upholstery and it when it dries, it is clear.
It is not advisable to use this on materials that are frequently washed for example coats or jeans as it is not machine washable glue.
Tear Mender Instant Fabric and Leather Adhesive
Is a type of fabric glue that is the best for use on leather materials.  This kind of fabric glue is simple when using because the excess glue can be finger-collected and put together forming a ball which is easily disposed.
It creates a permanent bond and can allow you to wash and dry clean the materials and surfaces used. This type of glue is recommended for gluing leather fabrics.
Aleene's Fabric Fusion Tape
It is a best fabric glue tape that enables one to make a quick fix as compared to other glues and sewing and it is very easy to use.
This fabric tape cannot be used on heavy materials and in addition to that; it loses its stickiness with time, hence temporary.
Tips for Sewing Through Fabric Glue
One can sew through fabric glue in order to strengthen the bond of the fabric.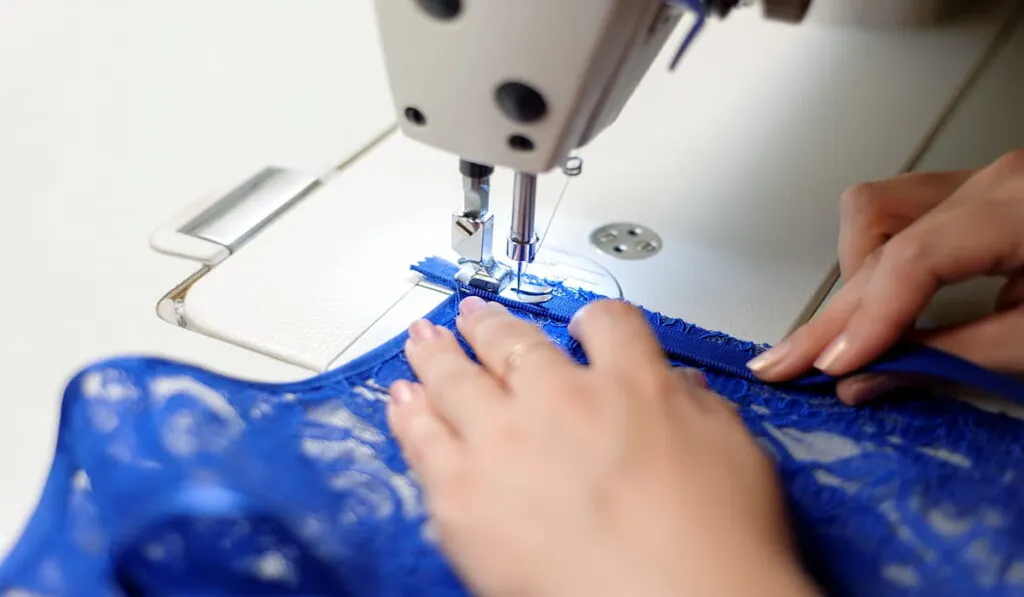 It is advisable to use temporary glue spray on the fabric and wait for the glue to dry completely to reduce or prevent the damages that the glue can cause to the sewing machine or the needle.
Glue does a great job at holding things together and the needle could skip stitches or sometimes it could get gummed up.
When sewing through fabric glue, ensure that you use temporary glue spray to spray over the desired part on the fabric and wait until the glue or the adhesive has dried up, in order to minimize the damages that can be caused as mentioned earlier.
After the glue on the fabric has dried up, and you have created a temporary bond with the glue, place your fabric on your machine and sew your fabric as desired.
Sewing through fabric glue is advantageous as it helps the fabric to last longer and it gives the cloth a certain design.
Resources